By
John King
CNN Chief National Correspondent





Editor's note: John King, CNN's chief national correspondent and "State of the Union" host, examines the news made in Sunday talk and offers up this Monday morning crib sheet on what to watch this week in politics. Please note that all quotes are from rush transcripts and are subject to change. If you'd like to receive a sneak peek of next week's news in your inbox every Sunday, you can sign up for the "Political Ticker -- State of the Union Sunday Edition" at http://www.cnn.com/profile/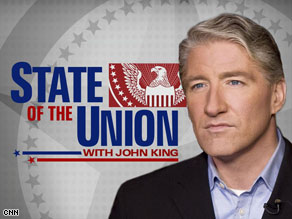 CNN's John King looks back at Sunday's talk shows and what will make news in the coming week.
(CNN) -- President Obama was aboard Air Force One over the Atlantic as this past Sunday's spinning, sparring and explaining played out. He has an increasingly ambitious overseas agenda at a telling time for his already crowded domestic portfolio.
At first glance, it's hard to be very optimistic about the prospects of getting Israel and the Palestinians back to the table, let alone back to the difficult choices of peacemaking. Yet the president, fresh from his outreach to the Muslim world, sounds remarkably upbeat. He is sending his special envoy, former Sen. George Mitchell, to the Middle East this week to put his new push to its first test.
Key subplots in the Middle East:
• Whether Israeli Prime Minister Benjamin Netanyahu is willing to come Obama's way.
• Whether Hamas and Hezbollah choose, as they often have in the past, to make themselves heard just when things get to a key juncture.
And waiting for Obama on the domestic front upon his return:
• A critical period for his push to get health-care reform this year.
• A rising unemployment rate that sobers the growing chorus of voices suggesting the worst of the recession is over.
• And the still evolving confirmation process for Supreme Court pick Judge Sonia Sotomayor.
And with that backdrop, these were the Sounds of Sunday:
Middle East peace process
"We want to get them back talking to each other. I think there is a recognition, a broad recognition in the region, that there needs to be progress. One of the great heartening things about the president's speech in Cairo is the enormously positive reaction it generated across the region and around the world and from both Israel and the Arab world we saw positive responses." -- David Axelrod, White House senior adviser, on CNN's "State of the Union"
I asked Axelrod about the thorny question of Israeli settlements:
'State of the Union'
John King reinvents Sunday talk: more time for more politics.
Sunday, 9 a.m. ET

King: "...many Israelis are asking that you should know that Netanyahu's government in Israel is so fragile that if he ... stopped the settlements now, his government might collapse. And so they ask the question, why do you keep pushing?"
Axelrod: "Well, because these are agreements that the Israelis have made in the past. Palestinians have made agreements in the past that they have not observed. And the president's point in that speech is that everybody has to step up now and meet their responsibilities, because the prospect of generations more bloodshed, of generations more suffering is something no one -- no one should accept." Read more of Axelrod's comments
Engaging Iran and North Korea
Secretary of State Hillary Clinton was also one of the Sounds of Sunday, discussing Iran and North Korea:
"We have to be willing to sit and listen and evaluate without giving up what we view as a primary objective of the engagement, which is to do everything we can to prevent Iran from becoming a nuclear weapon state. I don't think there is any doubt in anyone's mind that, were Israel to suffer a nuclear attack by Iran, there would be retaliation." -- Hillary Clinton on ABC's "This Week"
"If we do not take significant and effective action against the North Koreans now, we'll spark an arms race in Northeast Asia. I don't think anybody wants to see that." -- Hillary Clinton
"This Week" host George Stephanopolous probed further:
Stephanopolous: "Several senators wrote the president a letter just the other day saying that North Korea should go back on the list of states who sponsor terrorism. Will you do that?
Clinton: "Well, we're going to look at it. There's a process for it... you know, we take it very seriously. I mean, obviously, they were taken off of the list for a purpose, and that purpose is being thwarted by their actions."
The continuing recession
"I don't think there's any question it's going to be a rough patch, not just in the immediate term, but for a little bit of time, because you've got to turn the economy around, and jobs and job growth tend to come after you turn the economy around, so it's likely going to be a little higher." -- Austan Goolsbee, White House economist, on "Fox News Sunday"
"The stimulus package now is not nearly done; it's just really at its beginnings. That's the way the money is distributed. So let's see how this stimulus package works before we begin talking about whether there's a need for another." -- David Axelrod on "State of the Union" Read more about Axelrod's thoughts on the stimulus
GM bankruptcy: Mayors on the frontline
"Somebody had to do something. ... This isn't just about the auto industry. The credit market has dried up. We got a housing industry in crisis. And certainly the federal government had to do something here. I think from our point of view, we're just glad somebody is listening." -- Mayor Michael Brown of Flint, Michigan, on CNN's "State of the Union"
"I know people don't want to see the government involved and you get that dumb argument down there in Washington about the conservatives and the liberals and all that. Who needs it? We need the country working together on our problems. ... I'm not condemning the government. They didn't create the problem." --Mayor James Baker of Wilmington, Delaware, "State of the Union"
"I think the worse thing we could possibly do is turn this into a political battle. This is an American issue. We have thousands, hundreds of thousands of American lives at stake." -- Mayor Michael Dinwiddie of Spring Hill, Tennessee, on "State of the Union" Read more of the mayor's comments
The push for health-care reform
"One, we don't know how much it's going to cost and who's going to pay for it. Secondly, it will be the first steps in destroying the best health-care system the world has ever known." -- Sen. Richard Shelby, R-Alabama, on "Fox News Sunday"
"You won't fundamentally solve the problems in business until you solve the problems of spiraling health-care costs. Which is driving everybody crazy." -- Google CEO Eric Schmidt on "Fox News Sunday"
"The Barack Obama experiment is beginning to scare people ... when we're talking about 17 percent of our gross national product on health care, that's what we spend. But, if that Barack Obama experiment with our health care, if that doesn't work, we're also talking about human lives. We're also talking about the quality of our health care." -- Republican strategist Alex Castellanos on "State of the Union"
"This is going to be a long, hot summer when it comes to the debate on health care, because, as you know, there are so many proposals floating on Capitol Hill, some that include the mandate, some that has a public option, of course, and many Democrats would like to have the single-payer option." -- Democratic strategist Donna Brazile on "State of the Union" Read more about the health-care discussion
Clinton vs. Obama: One year later
One year ago this past Sunday, Sen. Hillary Clinton officially abandoned her hard-fought campaign for the Democratic presidential nomination. On "This Week," George Stephanopolous asked her to reflect on the past year.
Stephanopolous: "The Economist magazine said this week that the question you raised in that famous 3 a.m. ad...'It's 3 a.m., and your children are safe and asleep. Who do you want answering the phone?' ... is right back in the center of American politics. Has the president answered it for you?"
Clinton: "Absolutely. And, you know, the president, in his public actions and demeanor, and certainly in private with me and with the national security team, has been strong, thoughtful, decisive. I think he's doing a terrific job. And it's an honor to serve with him." Read more of Clinton's comments
All ears at the pyramids
We close the Sounds of Sunday with a look at the ancient past on "State of the Union":
King: "I want to close our conversation by asking you to take us inside the great pyramids of Egypt. The president is on a tour of the great pyramids. He is dressed casually and something on the wall catches his attention. He is shown it by the guide and he is noting the big ears and he calls over David Axelrod and Rahm Emanuel and says, look at this. What was the president telling you?"
David Axelrod: "Right. He said, 'who does that look like?' He said, 'it's me'. And I have to confess that the ears were a giveaway. It really did look like him. I was wondering whether someone chiseled that in there in honor of our visit, but apparently this was done some thousands of years ago. So kind of interesting. We didn't know what to make of it. But our guide said that he thinks the president might be descended from King Tut. So we'll see. We have no proof of that. We're not claiming that. But -- and I think perhaps he says that to all the visiting dignitaries. But the ears were unmistakable, I must say."

E-mail to a friend

All About Barack Obama • Middle East • Hillary Clinton • U.S. National Economy • General Motors Corporation