By Ed Henry
CNN Senior White House Correspondent






CNN's Ed Henry followed President Obama on his trip to the Middle East and Europe, ending at a commemoration of the 65th anniversary of the D-Day invasion of Europe. You can see his reflections from Normandy, as well as the entire Obama trip, by going to his Twitter page.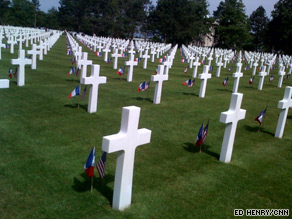 Row upon row of gravestones at the American Cemetery mark those killed in the invasion.
NORMANDY, France (CNN) -- I knew my first visit to the American Cemetery at Normandy would be emotional, but I really had no idea I'd be tearing up literally within about eight minutes of walking the rows of bone-white gravestones.
Those of us in the White House press corps traveling with President Obama to France on Saturday to celebrate the 65th anniversary of D-Day were very lucky. It was truly awesome to have a front-row seat to the celebration of the climactic battle of World War II, where Allied forces finally stopped the Nazi aggression.
If there was a hint of a downside, it was that all of us had to wake up Saturday somewhere around 5 a.m. Paris time (11 p.m. ET Friday, ugh) to then board one of several buses that would take us on a 3½-hour journey to Normandy. That's right, 3½ hours on a tour bus when you're already totally exhausted from a very busy trip that took us from Saudi Arabia to Egypt and then Germany and France in just a few days.

Watch President Obama's speech at Normandy »
The upside? WE'RE GOING TO NORMANDY!!!
Besides, do I really want to complain about a stinking bus ride when about 2,500 brave Americans lost their lives on this battlefield during the first 24 hours of vicious combat on June 6, 1944?
Didn't think so.
So I jump off the bus, head for the cemetery and decide I should pick just one of the dozens and dozens of rows of tombstones and keep walking until I stumble upon the first grave of a soldier from New York -- my home state -- that I can find.
In less than a minute, I found it. His name was Martin J. Biringer, a private from the 4th Cavalry. I bowed my head and thanked him for his service, trying to put myself in his combat boots, thinking that when I was an 18-year-old or 19-year-old kid growing up in New York, I doubt I had the strength and courage this man had to answer his country's call.
I decided to take my iPhone out and start posting reflections and photos on Twitter, starting with Biringer's grave.
I decided to keep walking down the same row of graves toward Omaha Beach, where the invasion began, and this is where I really got choked up. There was a bouquet of flowers sitting under one grave with a card written out in longhand on a piece of white paper.
"From your brother Pete, I remember you," it said so simply and yet so elegantly.
That's when I started feeling the chills on my back. The flowers were fresh, and so was the ink on the card. "Pete" had clearly been here in the last day or two, and I started thinking about the fact that he had not seen his "brother" in 65 years.
Sixty-five years. And yet he made the trek all the way here to simply say, "I remember you."
I started tearing up thinking of my own family: imagining my son going off to war and dying, and my daughter traveling to this cemetery 65 years later, and leaving a card like that. I remember you.
That's when it hit me: how easily we take for granted the emotional holes that the war left in so many lives.
In this case, I looked up and saw that Pete was paying tribute to his brother Theodore Cassera of New Jersey, a staff sergeant from the 8th Infantry who died a couple of weeks after D-Day. A man who fought and died so that we could be free.
Nearby, I found another grave with another card, this one with a piercing question. The card said at the top: "To save your world, you asked this man to die. Would this man, could he see you now, ask why? WH Auden"
In other words, did he die in vain?
The quick and easy answer might be yes, this particular man died to save us from the Nazis, but in our busy lives, we often seem to take his sacrifice for granted.
But after a couple more minutes of walking, I got a different answer. No, he did not die in vain. And the best part was that it was a few kids, about the age of my own children, who gave me that more hopeful answer.
There was now a huge crowd gathering for the ceremony where Obama would speak. I came upon a large group circled around an old veteran in a wheelchair, all decked out in his old military uniform, and beaming from ear to ear.

Watch D-Day vets in Washington talk about their experiences »
The source of the joy? A group of young boys from New York were rushing around with autograph books, the kind they would normally take to Yankee Stadium to desperately try to get Derek Jeter's signature.

But on this day, they were desperately trying to get the signatures of as many World War II vets as they could find.
It was a sight to see the wonder on their faces. Not just the boys -- the faces of the old men, too.
E-mail to a friend

All About World War II • Barack Obama