WASHINGTON (CNN) -- CIA Director Leon Panetta on Monday asked a federal judge to keep records of U.S. interrogations of top al Qaeda captives secret, arguing their release could cause "exceptionally grave" damage to national security.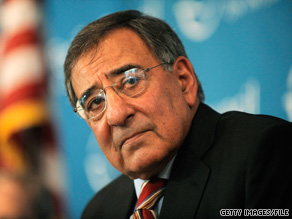 The records' release would give al Qaeda "ready-made" propaganda ammunition, the CIA's Leon Panetta said.
In a sworn declaration, Panetta stated that releasing detailed cables from CIA agents would disclose "sensitive intelligence and operational information" regarding the interrogation of al Qaeda figure Abu Zubaydah -- and provide "ready-made ammunition for al Qaeda propaganda."
"Al Qaeda has a very effective propaganda operation," Panetta wrote. "When the abuse of Iraqi detainees at Abu Ghraib prison was disclosed, al Qaeda made very effective use of that information in extremist Web sites that recruit jihadists and solicit financial support."
The statement came in a lawsuit filed by the American Civil Liberties Union, which in April won the release of Bush administration legal opinions justifying the use of "enhanced" interrogation techniques against suspected terrorists. Critics say those techniques amounted to the torture of prisoners in U.S. custody.
Critics have called for investigations and possible prosecutions of U.S. officials who authorized the "enhanced" techniques. But in his declaration, Panetta said his request was "in no way driven by a desire to prevent embarrassment for the U.S. government or the CIA, or to suppress evidence of any unlawful conduct."
"My sole purpose is to prevent the exceptionally grave damage to national security likely to occur from public disclosure of any portion of these documents, and to protect intelligence sources and methods," he wrote.
Most of the 65 documents Panetta is asking U.S. District Judge Alvin Hellerstein to keep under wraps are top-secret and represent "the most contemporaneous documents the CIA possesses concerning these interrogations." Others include notes from 92 videotapes that depicted the interrogations. The CIA has admitted it destroyed those videotapes.
There was no immediate response from the ACLU to Panetta's filing. The group has already asked Hellerstein to find the CIA in contempt for destroying the videotapes, which Panetta's predecessor disclosed were destroyed in 2005.
E-mail to a friend

All About Central Intelligence Agency • Abu Zubaydah • Al Qaeda • American Civil Liberties Union