By Jonathan Mann
CNN





(CNN) -- U.S. President Barack Obama is visiting the Middle East and Europe this week pursuing diplomacy and dialogue, trying to renew faith in America.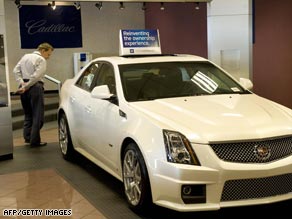 A customer looks at a new car in a GM showroom -- but GM sales are down 30 percent this year.
After visits in Egypt and Saudi Arabia, he heads today to Germany and France.
Then what he really needs to do is sell some cars back home.
His administration has decided to essentially nationalize General Motors in the U.S., making a $50 billion attempt to save the bankrupt automaker.
GM is a century-old icon of American free enterprise. It was once the largest employer in the country and the largest manufacturing company in the world.
By now, though, so many Americans have given up on its cars that only about one in five American drivers still buys GM vehicles and coincidentally, only about one in five Americans supports the government bailout.
The president says he took the decision to reluctantly.
"Our goal is to get GM back on its feet, take a hands-off approach and get out quickly."
Experts doubt it will be that simple and ordinary Americans have heard that kind of talk before. Remember, the administration has already spent hundreds of billions of dollars rescuing banks, mortgage lenders and the global insurance giant AIG.
Republican lawmaker John Boehner says "the government is firmly in the business of running companies using taxpayer dollars."
He may be right but so far the Republicans haven't offered a clear set of alternatives, Americans have no where else to put their faith, and Obama has to do something.
This week's outreach to the Muslim world is an important gesture internationally but it's hardly the thing that U.S. voters want most from their president. Obama has to deliver jobs, growth and economic security.
GM car sales are down 30 percent this year and they may now be one of the most important measures of Obama's presidency in the years to come.
If Buicks, Cadillacs and Chevrolets don't start filling American roads again soon, voters won't care very much about the how he was greeted by the crowds in Cairo.
They real indicator will be in American highways and parking lots. Obama needs to sell cars.
E-mail to a friend