By Ed Henry
CNN Senior White House Correspondent





DRESDEN, Germany (CNN) -- A day after his speech to the Muslim world, President Obama moved quickly to build momentum for Israeli-Palestinian peace talks, telling reporters Friday that he's sending special envoy George Mitchell to the region next week.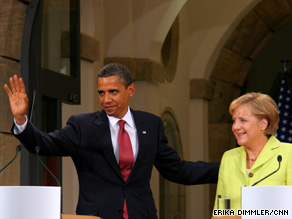 President Obama says he and German Chancellor Angela Merkel agreed to "redouble" efforts for Mideast peace.
Obama said that in the wake of his speech Thursday in Cairo, Egypt, he wants Mitchell "to follow up with each of the individual parties on a whole host of negotiation points and potential confidence-building measures that can be taken."
At a news conference with German Chancellor Angela Merkel after a private meeting with her, Obama said the two leaders discussed ways to "redouble" their efforts to bring about two states, Israel and a Palestinian state, living side by side in peace.
"I think the moment is now for us to act on what we all know to be the truth, which is that each side is going to have to make some difficult compromises; we have to reject violence," Obama said.
"The Palestinians have to get serious about creating the security environment that is required for Israel to feel confident. Israelis are going to have to take some difficult steps. I discussed some of those in the speech."

Watch as Obama stresses urgency on the Mideast »
Merkel praised Obama's speech in Cairo, saying it "opened up also the door to the Arab world again" and will help speed the peace process. Merkel revealed that the two leaders privately discussed a potential timetable for peace talks.
"We also talked about a possible time frame for possible progress to be made," Merkel said. "I said on behalf of the Federal Republic of Germany that we would like to try and be helpful in this peace process to the extent that this is possible to us.
"We need a two-state solution; we need a viable Palestinian state and a viable state of Israel, side by side. And whatever we can do in order to constructively accompany this along the way, we will gladly do."
Merkel did not elaborate when a reporter later pressed her to be more specific about a timeline, and neither did U.S. officials.
After recently prodding Israel to end settlements in the West Bank, Obama also appeared to try and ease some of the recent tension over the issue.
"I think a lot of attention has been given to my statement that the Israelis need to stop settlement construction, and I recognize that it has received a lot of attention in Israel as well," Obama said.
"Keep in mind that all I have done there is reaffirm commitments that the Israelis themselves had already made in the 'road map,' and I recognize the very difficult politics within Israel of getting that done, and I am sympathetic to how hard it will be, but as Israel's friend, the United States, I think, has an obligation just to be honest with that friend about how important it is to achieve a two-state solution, for Israel's national security interests, as well as ours, as well as the Palestinians."
Obama also praised his administration for creating "the atmosphere" potentially for peace talks to get back on track, noting they were stalled when he took office.
"You've probably seen more sustained activity on this issue in the first five months than you would have seen in most previous administrations," he said.
"The reason we are doing that is because not only had talks ground to a halt, but there was a sense that all sides were getting so dug in and so cynical that you might reach a point where you could never get the parties back at the table. And I think given what we've done so far, we've at least created the space, the atmosphere, in which talks can restart."

But he reiterated that the Israelis and Palestinians will have to do the heavy-lifting to make progress.
"Ultimately, the United States can't force peace upon the parties," said Obama. "But what we've tried to do is to clear away some of the misunderstandings so that we can at least begin to have frank dialogue. And we're not going to be able to do that by ourselves; we're going to require strong partners like Germany in that process."
E-mail to a friend

All About Barack Obama • Angela Merkel • Israel