By Mallory Simon
CNN






(CNN) -- Jared was forced to choose between a dying father and the love of his life.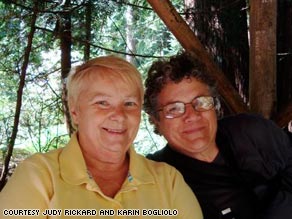 Karin Bogliolo, left, and her partner, Judy Rickard, say as they approach their 70s, all they want is to live together.
Judy Rickard had to quit her job and lose her full pension to be with the one she loved.
Martha McDevitt-Pugh packed up and moved to another country to be with her future spouse.
"Nobody should be in that position. Nobody should have to be an exile," Rickard said.
But all three said their hands were forced by federal immigration laws that don't allow Americans to sponsor their foreign-born same-sex partners for citizenship as a man may do for his wife or a woman for her husband.
"The problem is that I, as a woman, cannot sponsor my female partner for immigration. If I was a man or [my partner] Karin was a man, we wouldn't be having this discussion," said Rickard, 61.
She now travels outside the United States whenever she can to be with her partner, Karin Bogliolo, 68, who had to go back to Britain when her visa expired last year, but it's not the life together they dreamed of.
"I am finally with someone I really want to be with," Bogliolo said. "But we haven't got all the time in the world. We're both getting old."

Watch couple's emotional plea to live together »
An estimated 36,000 bi-national couples face the same dilemma each year, according to an advocacy group, Immigration Equality.
The Senate Judiciary Committee held a hearing on the bill for the first time Wednesday, after 10 previous attempts to have hearings on the Uniting American Families Act. The bill has 102 co-sponsors in the House and 17 co-sponsors in the Senate, including Judiciary Chairman Sen. Patrick Leahy, D-Vermont.
Tony Perkins, president of the Family Research Council which opposes same sex marriage, has condemned the bill as "yet another attack on marriage at the expense of U.S. taxpayers."

Watch what's at stake in the same-sex immigration fight »
"Although Leahy frames the policy as an anti-discrimination measure, the truth is, this weakens our federal law and chips away at the unique status of marriage," Perkins wrote in a blog on the group's Web site.
"For the federal government to recognize homosexual pairs in any way, shape, or form is a violation of the federal Defense of Marriage Act."
Rep. Barney Frank, D-Massachusetts, who is openly gay, is a co-sponsor of the House version of the bill, but thinks it should be part of a larger immigration reform measure, according to his spokesman, Harry Gural.
Gural said Frank "doubts that it will be taken up in this Congress because of the overwhelming need to deal with other issues like financial regulation, climate change and health care." Gural said Frank supports the bill, but "he's just a pragmatist."
The Senate Judiciary Committee heard from couples facing deportation and split because of the law. Nineteen other countries, including much of western Europe and Canada, Brazil and Australia among others, allow nationals to sponsor same-sex partners for citizenship.
"We're not asking for anything special," Rickard said. "This is a civil rights issue; it's about basic rights and right now, we are considered second-class citizens. But this bill, if it passed, it would mean quite simply that we could be equal."
The committee heard from opponents like Jessica M. Vaughan, director of policy studies for the Center for Immigration Studies, a group that supports a restrictive immigration policy and the deportation of illegal immigrants. She testified that immigration numbers in the United States are already staggering and the bill would put further stress on the system.
Vaughan said that because the bill would allow sponsoring of "permanent partnerships," it would be difficult to accept applications because there was no documentation for those, the way there are for marriages.
"Without documents, how do you establish the relationship is bona fide?" she said. "And if we are going to make this change, it should be across all federal levels, not just immigration. What about Social Security and Medicare?"
For some same-sex couples, it is enough to start with immigration.
Jared, a Dutch national living in this country illegally who asked to be identified only by his English nickname, fell in love with Melvin Terry in 1978 while traveling in Europe. He had been with Terry for 18 years when he was told by the U.S. government that he had to leave.
"The fact that the government has the right to tell you your relationship is invalid, it's more than frustrating, it's insulting," Terry said.
Then, Jared's dad became ill in the Netherlands.
He was forced to choose whether to go back home to see his father before he died and risk being denied entry back into the United States because he is HIV-positive or of staying with Terry and never seeing his father again.
His father made the choice for him, sending him a letter and underlining "don't even think about coming here." And so for 13 years, Jared, 49, has remained in the United States illegally to be with his 62-year-old partner. iReport.com: Couple must live in Germany
Canadian Chris Waddling, who came to the United States to study and work beginning in 1994 as a research scientist, is one of the lucky ones -- his employer at UCSF has agreed to sponsor him for a green card and permanent residency.
But Waddling says he sees inequality every day at work, in the shape of a female coworker who married a foreign man and could sponsor him.
"Every single time somebody gets a green card based on a spouse's support, it's one more person who has jumped ahead of me in a line I should be in," Waddling said.
Martha McDevitt-Pugh, founder and chairwoman of the advocacy group Love Exiles, gave up waiting for things to change and moved to the Netherlands so she could be with her Dutch partner, Lin McDevitt-Pugh.
The two married in the Netherlands, but Martha McDevitt-Pugh has struggled to find work abroad.
"I realized that what I had in the U.S. I was never going to have that again," she said. "I wanted to have the same choice as everyone else and that was what made me so angry."

The McDevitt-Pughs are hopeful this will be the year things will change, and they encourage all gay people to stand up for the rights they deserve.
"What we have on our side is love," Lin McDevitt-Pugh said. "I know that those in exile are in exile because they love somebody so much that they are willing to leave their country and their families."
E-mail to a friend

CNN's Deirdre Walsh contributed to this report.
All About Gay and Lesbian Relationships • Immigration