RIYADH, Saudi Arabia (CNN) -- President Obama wants to form positive partnerships with Muslim nations to address issues "that matter to people's lives" such as economic development, education, health, science and technology, an administration spokesman said Wednesday.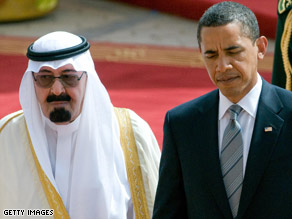 President Obama and Saudi King Abdullah bin Abdul Aziz al-Saud walk together in Riyadh, Saudi Arabia, on Wednesday.
Ben Rhodes said that when Obama takes the stage Thursday for a major speech in Cairo, Egypt, he also will express the need to promote democracy and human rights.
Obama will repeat a sentiment he expressed in a speech in Ankara, Turkey, in April, Rhodes said.: "This can't be just (about) what we're against, but what we're for."
Rhodes said Obama asked administration staff to "cast a wide net" to gather a range of viewpoints, including those of Muslim-Americans, as he was preparing his Cairo comments.

Watch Obama discuss his trip »
Obama leaves late Wednesday for Cairo, Egypt, where he is to address a mostly Muslim audience Thursday at 6 a.m. ET.
His plans to improve America's image among Muslims have been in the works since his first week in office. iReport.com: How can U.S. better relate to Muslims?
"My job is to communicate the fact that the United States has a stake in the well-being of the Muslim world, that the language we use has to be a language of respect," Obama said in a January interview with Al-Arabiya television network.
"I have Muslim members of my family. I have lived in Muslim countries," he said.
When the White House announced the Mideast trip in May, spokesman Robert Gibbs described Egypt as "a country that in many ways represents the heart of the Arab world."
Gibbs deflected questions at his daily briefing about whether Egypt was a wise choice, given President Hosni Mubarak's resistance to making his government more democratic. iReport.com: A Saudi on Obama in Muslim land
Not long before Obama departed on his trip, a CNN/Opinion Research Corp. survey suggested that 46 percent of Americans have an unfavorable opinion of Muslim countries. That view is an increase of 5 percentage points from 2002. Three in 10 Americans questioned said they had a neutral opinion.
On Tuesday, Gibbs told reporters: "I think what is important is that we demonstrate that the United States wants to pursue a different relationship and ensure that Muslims around the world understand the message of the United States."
He said, "We have more in common than we have disagreement about, and I think that's what he wants to ensure that the vast majority of the Muslim world hears."
Mideast expert Mamoun Fandy says Egyptians want to hear "that he is very serious about solving the Israeli-Arabian problem, that he is very serious about engaging the Muslim world on the basis of recognizing the equality."

After Egypt, Obama will visit the remains of the Buchenwald concentration camp in Dresden, Germany, on Friday.
He then is scheduled to take part in D-Day ceremonies commemorating the 65th anniversary of the World War II Allied landings in Normandy, France.
E-mail to a friend

All About Barack Obama • Islam • Egypt