JOHNSTOWN, Pennsylvania (CNN) -- In a town where steel mills are shuttered relics, another industry is now on display.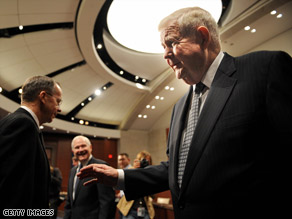 An aide for Rep. John Murtha, D-Pennsylvania, says watchdog groups are making "baseless accusations."
At a recent Showcase for Commerce trade show, the displays ranged from tanks and armored ambulances to rocket launchers and robots. It was more than a war fighter's marketplace. It was a testimonial to the power of major defense contractors who've gathered in the southwestern corner of Pennsylvania -- and the power of the man who brought them here.
"We would not have been here if it was not for Congressman [John] Murtha," Ed Sheehan, president and chief executive officer of Concurrent Technologies Corp., told CNN.
Murtha has served the 12th District in Pennsylvania since 1974. Many believe the 76-year-old Democrat helped resurrect this region when the steel industry went bust by getting major defense firms to set up shop.
"We were down pretty low, leading the country in unemployment, and this has brought us back and diversified us," said Robert Layo, president of the Johnstown Chamber of Commerce.
As chairman of the House panel that oversees defense appropriations, Murtha's influence over where the Pentagon's billions are spent is enormous.
And much of that money goes to his district. Taxpayers for Common Sense, a watchdog group, says he steered nearly $130 million to his district last year.
Don't Miss
Among the booths at the Showcase for Commerce was one from Kuchera Industries, a company with longstanding ties to Murtha. FBI agents raided the company's Johnstown offices in January, reportedly on suspicion that it had misused government money for some events it held.
The company also has suspended from doing business with the Navy for alleged fraud, including what a Navy spokesman described as "defective pricing."
Asked to comment at the trade show, a top company official wouldn't speak with CNN.
An attorney for Kuchera, Dennis McGlynn, released a statement: "We are in the process of appealing the suspension by the Department of the Navy, and we believe that after we present our reply, the suspension will be lifted."
Murtha helped Kuchera get more than $9 million in earmarks last year and has received more than $89,000 in campaign contributions from its employees and their family members.
Asked about the cloud surrounding Kuchera, Murtha told a reporter, "What do you think, I'm supposed to oversee these companies? That's the defense department's job. That's not my job. You guys write these stories, you don't have a clue what this is all about."
Murtha is not accused of wrongdoing. An aide said his office has been told by federal agents that he has nothing to do with the investigation into Kuchera. But PMA Group, a defunct lobbying group whose clients and executives are major contributors to Murtha, is also under federal investigation for its role in the awarding of defense contracts.
And a budget watchdog group says there are growing ethical questions for Murtha.
"He gets contracts to his district. He expects people who want to do business in his district to give him campaign contributions," said Ryan Alexander, president of Taxpayers for Common Sense. "If you look at what's swirling around him, he's got a lot of reason to be concerned."
In response, a Murtha aide told CNN these so-called watchdog groups are quick with quotes but have never provided any facts to back up what he called their "baseless accusations." The aide stressed that the congressman has done nothing wrong and is not connected with the investigations into Kuchera or the lobbying firm.
One of Murtha's Democratic colleagues on that Defense Appropriations Subcommittee, Pete Visclosky, has been subpoenaed by the feds for documents related to that lobbying firm. Visclosky denies any wrongdoing.
E-mail to a friend

CNN's Dugald McConnell contributed to this report.
All About John Murtha • Taxpayers for Common Sense