WASHINGTON (CNN) -- President Obama nominated a Republican U.S. congressman from New York on Tuesday to be secretary of the Army.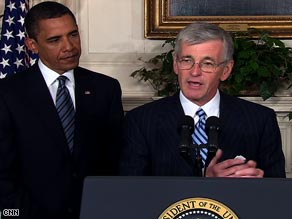 President Obama nominated Rep. John McHugh, R-New York, to be Army secretary.
Obama's nomination of Rep. John M. McHugh, ranking Republican on the House Armed Services Committee, must be reviewed and voted on by the Senate. The president announced his choice at a news conference.
"John understands personally and deeply the sacrifices soldiers and their families make every day," Obama said.
McHugh, he said, has been in public service at local, state and national levels and because of this is "uniquely qualified to lead" the Army.
"John shares my belief that a sustainable national security strategy must include a bipartisan consensus at home. He hasn't agreed with every decision my administration has made, but he brings patriotism and a pragmatism that has won him respect on both sides of the aisle," Obama said.
The congressman has made several trips to Iraq and Afghanistan.
McHugh said, "I am deeply proud of this nomination." He explained that he grew up near Fort Drum Army Base and through the years has had lots of interaction with military families. Fort Drum is in his congressional district.

Watch McHugh discuss his nomination »
"The Army's always had a special place in my heart," he added.
McHugh, who lives in Pierrepont Manor, New York, about 60 miles north of Syracuse, was elected to the House in 1992 and has served on the Armed Services Committee since 1993. He was a state senator from 1984 to 1992.
He would replace Army Secretary Pete Geren, who has had the job since July 16, 2007. A special election would be called to replace McHugh, whose New York district covers the northern part of the state, including the Fort Drum Army Base.
Geren became acting secretary of the Army in March 2007, after news emerged of substandard conditions at Walter Reed Army Medical Center in Washington. The revelations forced Secretary of the Army Francis Harvey to resign.
In a speech last month to the Council on Foreign Relations, McHugh, 60, said he feels that Republicans can have an effect on the national security debate even without control of the White House or either branch of Congress.
And in an editorial in The Hill newspaper, he described three areas in which he believes Republicans can be more effective in shaping defense policy, saying, "Indeed, if we do our job well with respect to these objectives, it is quite possible that President Obama might well partner with congressional Republicans to carry out many of his defense policies."

His three "pillars of national security" are promoting policies that ensure the war on terrorism remains "global and a war in which we are fully engaged," maintaining good relations with allies while interacting with U.S. rivals, and promoting "a robust commitment to defense spending."
Obama previously chose another House Republican, Ray LaHood of Illinois, to be his secretary of transportation.
E-mail to a friend

All About Barack Obama • U.S. Army Activities • John McHugh