By Bill Mears
CNN Supreme Court Producer





WASHINGTON (CNN) -- The Obama administration is turning to the Supreme Court as it seeks to block public release of photos apparently depicting abuse of suspected terrorists and foreign soldiers in U.S. custody.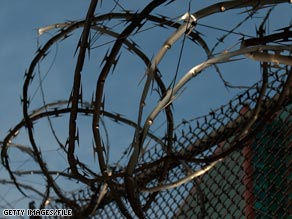 President Obama changed his stance on pictures said to show U.S. personnel abusing detainees.
Justice Department lawyers late Thursday told a federal appeals court in New York -- the same one on which high court nominee Sonia Sotomayor sits -- to hold off a ruling ordering release of the material, saying they plan to ask the justices to hear their case.
The government said it would proceed "absent intervening legislation" from Congress.
The "motion to recall" comes after President Obama ordered government lawyers this month to object to the court-ordered release of photos depicting the mistreatment of prisoners held in Iraq and Afghanistan, reversing an earlier White House decision. The Pentagon had been set to release hundreds of photos in response to a Freedom of Information Act request filed by the American Civil Liberties Union.
The ACLU -- which filed the initial lawsuit for disclosure -- has criticized the administration's about-face, saying it "makes a mockery" of Obama's campaign promise of greater transparency and accountability, and damages efforts to hold accountable those responsible for abusing prisoners.
The 2nd U.S. Circuit Court of Appeals ruled in September that the photos must be released. The president now says doing so "would pose an unacceptable risk of danger to U.S. troops in Afghanistan and Iraq." Sotomayor has served on that court since 1998 but was not involved in that particular appeal.
Last week, the Senate voted for the Detainee Photographic Records Protection Act, which would limit the reach of the Freedom of Information Act in this instance. The House could adopt a similar provision next month as part of an omnibus spending bill.
Don't Miss
The government has until June 9 to file its initial appeal with the Supreme Court.
Solicitor General Elena Kagan, herself a finalist for the upcoming high court vacancy, told the New York-based appeals court that if Congress passes the disclosure amendment, Defense Secretary Robert Gates could "preclude release under [the Freedom of Information Act] of the photographs at issue in this case."
In court documents filed this week, Gen. David Petraeus -- the top U.S. commander in the region -- argued that public access would have a "destabilizing effect" on Pakistan and other U.S. partners in the battle against al Qaeda.
"Newly released photos depicting abuse of detainees in U.S. military custody in Afghanistan and Iraq would negatively affect the ongoing efforts by Pakistan to counter its internal extremist threat," wrote Petraeus, the chief of U.S. Central Command.
U.S. allies in the region already "struggle with their populations' perceptions that they are merely instruments of the U.S. government and do not have their citizens' best interests at heart," and releasing the images "would likely deal a particularly hard blow" to American efforts in those countries, he stated.
He predicted that a likely result of the photos' release would be "civil unrest via spontaneous demonstrations in Pakistan's largest cities."
Forty-four photos are covered in the ACLU request for release, but others could be released under the earlier appeals court ruling.
The justices would be under time pressure to decide whether to accept the government's appeal for review, before the court recesses for the summer in late June. They would not return until late September, when Sotomayor would join them if confirmed.
The case is ACLU v. Department of Defense (06-3140).
E-mail to a friend

All About U.S. Supreme Court • Torture • American Civil Liberties Union