By Lisa Desjardins and Ted Barrett
CNN





WASHINGTON (CNN) -- The longest-serving Republican on the Senate Judiciary Committee told CNN Radio on Thursday that, barring any surprises, Sonia Sotomayor is headed for a Supreme Court confirmation.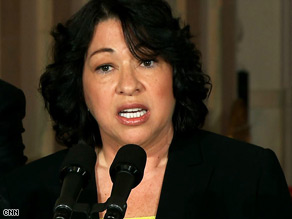 Judge Sonia Sotomayor would be the first Hispanic on the U.S. Supreme Court.
"If there are no otherwise disqualifying matters here, it appears to me she will probably be confirmed," Sen. Orrin Hatch of Utah said.
Hatch was acknowledging the current Senate political landscape. Sotomayor was nominated by a Democrat president, and Democrats could have 60 votes in the 100-member chamber if Minnesota's Al Franken is seated. They now hold 12 of the 19 seats on the Senate Judiciary Committee that will first consider Sotomayor's nomination.
Sen. Pat Roberts, R-Kansas, said Thursday he does not plan to vote to confirm Sotomayor, becoming the first Republican to explicitly state his opposition.
"She has made statements on the role of the appeals court I think is improper and incorrect," Roberts said. "I think that we should be judging people not on race and gender, or background or ethnicity or a very compelling story."
Hatch -- who unlike Roberts voted in favor of Sotomayor's 1998 nomination to the federal appeals court -- also revealed one of the first Republican battle lines on the nomination: the schedule.

See Sotomayor's key rulings »
President Obama and other Sotomayor supporters say they want her confirmed before the Senate goes on its August recess, so that she can be well-situated for the start of the next Supreme Court session in October.
Hatch and fellow Judiciary Committee Republicans Jon Kyl of Arizona and John Cornyn of Texas are pushing for a longer timeframe. They say it is almost impossible to review Sotomayor's extensive record, debate her nomination and hold a Senate vote by August.
Don't Miss
"If the Democrats don't overplay their hand and don't try to rush this too much, the process will go well, they'll be better off, she'll get confirmed," Hatch said, again adding that his prediction is based on no new concerns coming to light.
The opposition party usually fights for extensive time to try to find hidden issues in a Supreme Court nominee's record. Hatch said senators need three months to consider Sotomayor and that a vote should come in September, after the Senate's August break.
A September vote would crunch Sotomayor's preparation time for setting up her office before the high court's next term begins. It also would complicate Democratic fights on health care and energy that could reach a critical point at that time.

See whom Sotomayor would sit alongside if she's confirmed »
Hatch insisted a September Senate vote would get Sotomayor on the bench in time for the new Supreme Court session.
"If they do it the right way," he said of Senate Democrats, "and there is no otherwise disqualifying feature to this, it is highly likely she is going to be confirmed as the ninth justice on the Supreme Court in time to sit on the court on the first Monday of October."
Meetings on the timetable have begun. On Thursday, White House staffers met with aides to Democrats on the Judiciary Committee to go over this and their strategies for Sotomayor's confirmation, according to a Senate Democratic aide involved in the confirmation process.
Sotomayor will go to Capitol Hill as early as Tuesday to meet with senators who will vote on her confirmation.
The Judiciary Committee has not announced when the confirmation hearings will begin.
Democrats were relieved Wednesday when Sen. Jeff Sessions, R-Alabama, and the top Republican on the Judiciary Committee, said he did not think Republicans would block the nomination with a filibuster.
But prominent conservatives still are trying to stir public opinion against Sotomayor. Radio host Rush Limbaugh and former Republican House Speaker Newt Gingrich have called her racist, pointing to an October 2001 speech at the University of California, Berkeley.
During that speech, she said: "I would hope that a wise Latina woman, with the richness of her experiences, would more often than not reach a better conclusion than a white male who hasn't lived that life."

The Senate Democratic aide involved in the confirmation process said Democrats are pleased with the initial response from Republican senators to Sotomayor's nomination, saying it was a "good sign" that GOP senators have not adopted some of the language coming from Limbaugh and Gingrich.
"If the fire-breathing rhetoric is contained to the far right element, it doesn't jeopardize the nomination," the aide said.

E-mail to a friend

CNN's Alexander Mooney contributed to this report.
All About Sonia Sotomayor • U.S. Supreme Court • Orrin Hatch