WASHINGTON (CNN) -- Releasing images of the alleged abuse of prisoners in U.S. custody could damage Pakistan's efforts to battle Islamic militants as well as increase the risks to American troops in Afghanistan and Iraq, the top U.S. commander in the region has told a federal judge.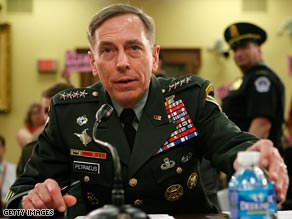 Gen. David Petraeus says, "Militant and extremist groups would use these images."
In court documents written Wednesday urging a judge to keep the pictures under wraps, Gen. David Petraeus argued they would have a "destabilizing effect" on Pakistan and other U.S. partners in the battle against the al Qaeda terrorist network.
"Newly released photos depicting abuse of detainees in U.S. military custody in Afghanistan and Iraq would negatively affect the ongoing efforts by Pakistan to counter its internal extremist threat," wrote Petraeus, the chief of U.S. Central command.
U.S. allies in the region already "struggle with their populations' perceptions that they are merely instruments of the U.S. government and do not have their citizens' best interests at heart," and releasing the images "would likely deal a particularly hard blow" to American efforts in those countries, he stated.
President Obama ordered government lawyers earlier this month to object to the court-ordered release of photos depicting the mistreatment of prisoners, reversing an earlier White House decision. The Pentagon had been set to release hundreds of photos in response to a Freedom of Information Act request filed by the American Civil Liberties Union before Obama's orders.
The ACLU lawyer said earlier this month that the administration's decision "makes a mockery" of Obama's campaign promise of greater transparency and accountability and damages efforts to hold accountable those responsible for abusing prisoners. ACLU spokesman Jameel Jaffer said the arguments contained in Thursday's filing are no different than those the administration has offered before, and the group will file its response early next week.
In his 13-page declaration, Petraeus told the court that a likely result of the photos' release would be "civil unrest via spontaneous demonstrations in Pakistan's largest cities."
"Militant and extremist groups would use these images to foment anti-U.S. sentiment and to incite demonstrators to conduct deliberate attacks against U.S. targets, as well as western Non-Government Organization facilities and personnel," he said.
Releasing the photos also could damage ties between Washington and the government of Afghan President Hamid Karzai, fueling attacks by the Taliban -- which once ruled most of the country -- on allied supply lines and polling stations in Afghanistan's upcoming election, he said.
Two sections of his statement were blacked out before the document was released by the Justice Department.
The filing also included a statement from Gen. Raymond Odierno, the U.S. commander in Iraq, who warned that releasing the pictures could cause similar trouble for Iraq's fledgling government.
"Incidents of spontaneous violence against U.S. forces, possibly including attacks from outraged Iraqi police or army members, are likely," Odierno wrote. "This could weaken our partnership with the Iraqi security forces, decrease security and lead to more violence," Odierno wrote.
E-mail to a friend

All About David Petraeus • American Civil Liberties Union