CHICAGO, Illinois (CNN) -- A federal judge on Tuesday approved sending to the U.S. Senate Ethics Committee recordings of secretly taped conversations between Sen. Roland Burris and former Illinois Gov. Rod Blagojevich's brother, which took place before the Burris appointment.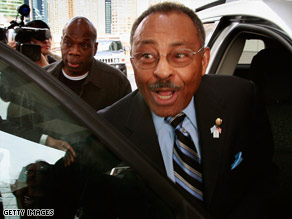 On an audio tape, Roland Burris apparently offers to cut a check to Gov. Rod Blagojevich's campaign.
The conversations, in which Burris offers to cut a check to the governor's campaign, were taped in November, about a month before the governor appointed Burris to fill the Senate seat vacated by President Obama.
However, Burris' attorney Timothy Wright told CNN that his client eventually decided against writing the check, thinking it would be a bad idea.
The tapes were requested by the Ethics Committee as part of an investigation into Burris' appointment and seating.
During the November 18 conversation, Burris tells Robert Blagojevich, "I know I could give him a check," then says he may make the contribution under Wright's name (his attorney) " because Tim's not looking for an appointment." Burris promises he'll write the check by December 15.
Throughout the talk, Burris presses Blagojevich to tell him how he can help with the campaign without looking like he bought the appointment.
"I'm trying to figure out how to deal with this and still be in the consideration for the appointment," he says.
"I hear ya. No, I year ya," Robert Blagojevich responds.
"And, and if I do that, I guarantee you that, that will get out and people said, 'Oh, Burris is doing a fundraiser' and, and then Rod and I both gonna catch hell. ... And if I do get appointed, that means I bought it."
Wright told the Chicago Sun-Times on Tuesday that the check would have been for $1,500, and denied Burris' promise to write the check was part of any "pay-to-play" scheme.
"Fifteen-hundred dollars? Come on," Wright told the paper. "Burris had been a fund-raiser in years past. This had nothing to do with pay-to-play."
Burris, whom then-Gov. Blagojevich appointed days before he was impeached by the Illinois legislature in January, did not mention the conversations while testifying before the legislature during the impeachment trial.
According to a Burris staffer and an affidavit obtained by CNN in February, Robert Blagojevich solicited Burris for up to $10,000 in campaign cash before Burris was named to his Senate seat. However, in the affidavit, Burris said he refused to contribute to Blagojevich or to assist in fund-raising for him.
Rod Blagojevich, who was removed from office earlier this year, pleaded not guilty to federal corruption charges. A federal grand jury indicted him in April on 16 felony counts, including racketeering, conspiracy, wire fraud and making false statements to investigators.
Blagojevich denies all charges.
The indictment also charges some of Blagojevich's closest aides and advisers, including his brother, Robert, in a wide-ranging "scheme to deprive the people of Illinois of honest government," according to a statement released by the U.S. Attorney's office.
Robert Blagojevich also pleaded not guilty to the charges.
According to the indictment, the governor schemed with others in 2002 -- even before he took office -- to use his position to make money, which they were to share after he left office.
Among other allegations, Blagojevich is accused of working with others to figure out how he could make money by appointing Obama's replacement.
The indictment says he believed an associate of someone referred to in the indictment as "Senate Candidate A" had offered $1.5 million in campaign contributions in exchange for the appointment.
Blagojevich had asked his brother to meet with an associate of "Senate Candidate A" and say that some of those contributions needed to come through before he made the appointment -- but the meeting was canceled after a newspaper article reported Blagojevich had been recorded talking about selling the seat.
A lengthy FBI affidavit alleges Blagojevich was intercepted on court-authorized wiretaps trying to profit from the Senate vacancy.
The indictment said Blagojevich communicated "directly and with the assistance of others" with people he believed were in contact with Obama -- trying to gain political favor by possibly appointing someone the president-elect supported.

He ultimately appointed Burris, the Democratic former state comptroller and attorney general, who was seated in the Senate despite protests from the chamber's Democratic leaders. Those leaders said a special election should be called because of the controversy over the appointment.
If convicted, Blagojevich would face up to 20 years in prison for each of the 15 most serious charges in the indictment, and five years on a single charge of making false statements.
E-mail to a friend

All About Rod Blagojevich • Illinois • Roland Burris