WASHINGTON (CNN) -- North Korea's reported nuclear test did not come as a surprise to the United States, the top-ranking U.S. military officer said Monday.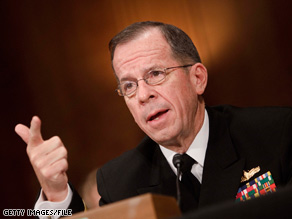 Adm. Mike Mullen says it will take a few days to verify that North Korea conducted a nuclear test.
"We weren't surprised because of recent statements by North Korean leadership that they intended to do this," Admiral Mike Mullen, chairman of the Joint Chiefs of Staff, told CNN's "American Morning."
"As you know, they also recently ... unsuccessfully launched potentially an intercontinental ballistic missile."
North Korea announced on Monday that it had conducted a second nuclear test. The North had threatened to do so unless the U.N. Security Council apologized for imposing sanctions on North Korea when it tested a rocket on April 5.

Watch how U.S. is reacting to the test »
In a one-two punch, the secretive communist state also apparently test-fired a short-range missile on Monday, the White House said.
Mullen said it will take a couple of days to verify Monday's reported test, but he added, "there's no indication that it wasn't as they say."
He said the reported test shows Pyongyang is becoming "increasingly belligerent."
The United States, along with most other countries, has denounced the test. Even China -- North Korea's strongest ally -- said it opposed the test.
China's government "expresses firm opposition" to the test, in which North Korea "disregarded the opposition of the international community," according to a statement from China's Ministry of Foreign Affairs.

The White House -- which less than three weeks ago announced a new diplomatic effort to restart stalled talks with North Korea about its nuclear program -- said the test was in "blatant defiance" of the U.N. Security Council.
The U.N. Security Council plans to discuss North Korea's nuclear test at 4 p.m. ET on Monday.
E-mail to a friend

All About North Korea • Nuclear Proliferation • United Nations Security Council