By
John King
CNN Chief National Correspondent





Editor's note: John King, CNN's chief national correspondent and "State of the Union" host, examines the news made in Sunday talk and offers up this Monday morning crib sheet on what to watch this week in politics. Please note that all quotes are from rush transcripts and are subject to change. If you'd like to receive a sneak peek of next week's news in your inbox every Sunday, you can sign up for the "Political Ticker - State of the Union Sunday Edition" at http://www.cnn.com/profile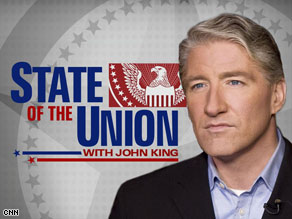 CNN's John King looks back at Sunday's talk shows and what will make news in the coming week.
(CNN) -- The sounds of Sunday on Memorial Day weekend included the sonic booms of the Shuttle Atlantis returning home. As always, it was a breathtaking sight.
There was no holiday break from the sharp talk and advice-giving in Washington as:
• President Obama prepares to make his Supreme Court pick.
• Colin Powell stirred anew the debate over the size and shape of the GOP's "big tent."
• An array of voices stirred the national security debates that in recent days have dominated a capital most would have thought would be more focused on the new administration's domestic agenda.
The security debate
On CNN's "State of the Union," former Pennsylvania Republican Gov. Tom Ridge, who became director of the White House Office of Homeland Security in October 2001 and later the first Homeland Security secretary, responded clearly and directly to Cheney's statement that America is now "less safe." Cheney made that statement on "State of the Union" on March 15, in his first post-inauguration TV interview. Here's the transcript in case you want to refresh your memory.
'State of the Union'
John King reinvents Sunday talk: more time for more politics.
Sunday, 9 a.m. ET

Here is part of the back-and-forth between myself and Ridge:
King: "You had the intelligence. You served in a very sensitive position in those days after 9/11. Do you believe we are less safe today, because of steps taken by President Obama?"
Ridge: "I do not."
King: "You disagree with Dick Cheney then?"
Ridge: "Yeah, I disagree with Dick Cheney. But I also disagree with the approach both men are taking." Read more of what Ridge had to say
Ridge reacted very strongly to Obama's recent accusation that, during the Bush administration "... all too often, our government made decisions based on fear, rather than foresight. ... all too often, our government trimmed facts and evidence to fit ideological predispositions."
"I'm surprised that President Obama, who I really, truly believe knows better, would make such a statement. The men and women in charge of America's security, whether they're military, or the intelligence community -- the president, the vice president, the attorney general, the FBI director -- did everything they could at the time to prevent another attack on America. And did it consistent with the Constitution and the rule of law." -- Tom Ridge on "State of the Union." Read more about Ridge's criticisms of Obama
There was a bipartisan chorus of complaints about Guantanamo Bay and, in particular, the possibility that dangerous detainees might end up on U.S. soil.
"We don't need the hard-core, the worst of the worst to come to this country. We can do better. First of all, John, we have a state-of-the-art facility at Gitmo. We spent over $200 million down there. There's no reason at all to move them, but I do believe that we need to evaluate them and see which ones that we need to for a long-term detention which ones need to be turned loose and which ones could be turned loose, but not in America." -- Sen. Richard Shelby, R-Alabama, on "State of the Union"

Watch senators debate »
Don't Miss
"I think the president made a very big mistake. It was a campaign promise; it is not a national security plan. I think frankly they should keep Guantanamo open. Whatever things that are wrong at Guantanamo they would fix by moving to somewhere else, fix them at Guantanamo." -- Former Republican Speaker Newt Gingrich on NBC's "Meet the Press"
"Well, we only have one maximum security prison in California, and it's right now overbooked. That's the case." -- Sen. Barbara Boxer, D-California, on "State of the Union" Read more about Boxer's concerns
Democrat strategist Robert Shrum and Republican strategist Ed Rollins took up the Guantanamo debate in one of the analysis segments on "State of the Union":
Bob Shrum: "Look, I think the Republicans, who don't have a lot to say on most other things, are conquering a tactical mole hill. The big issues on the horizon are the economy, national security, health care. He's going to put a plan forward. That plan will get approved. Some detainees will come to the U.S. They won't escape from super-max prisons, and this issue will go away."
Ed Rollins: "I think, you know, the president can't spend the next four years blaming George Bush. There's a lot of Republicans who weren't happy with George Bush, a lot of Democrats, obviously. That's what the election was about. But, at the end of the day, our national security is an American problem. It's not a Republican [problem]; it's not a Democrat problem."
Future of the Republican Party
TV is the arena for the debate over the future of the Republican Party. Both radio talk show host Rush Limbaugh and Cheney have recently criticized former Secretary of State Colin Powell as, perhaps, more aligned with the Democrats than the Republicans.
"I am still a Republican. I would like to point out that in the course of my 50 years of voting for presidents, I have voted for the person I thought was best qualified at that time to lead the nation. Last year I thought it was President Barack Obama. For the previous 20 years I voted solidly for Republican candidates." -- Former Secretary of State Colin Powell on CBS' "Face the Nation"
"[Rush Limbaugh] shouldn't have a veto over what someone thinks. He is an entertainer, he is a radio figure and he is a significant one. But he is more than that. When the chairman of the RNC, Michael Steele, issues the mildest of criticisms concerning Mr. Limbaugh, and then 24 hours later the chairman of the RNC has to lay prostrate on the floor apologizing for it, and when two congressman offer the mildest criticisms of Mr. Limbaugh, they too within 24 hours have such pressure brought to bear on them that they have to change their views and apologize for criticizing him. Well, if he's out there, he should be subject to criticism just as I am subject to criticism." -- Colin Powell on "Face the Nation" Read more about Powell's comments
Tom Ridge addressed the situation with Limbaugh on "State of the Nation":
King: "You have used those terms -- need to be less shrill, less judgmental. Who's being shrill? Who's being judgmental?"
Ridge: "I think a lot of our commentators are being shrill. I mean, I don't disagree --"
King: "Rush"
Ridge: "Yes, Rush Limbaugh has an audience of 20 million people. A lot of people listen daily to him and live by every word. But words mean things and how you use words is very important."
King: "I want to be clear, though. You think Rush is among those being too judgmental, too shrill?"
Ridge: "I think Rush articulates his point of view in ways that offend very many." Read more about what Ridge said about Limbaugh
Former White House adviser Karl Rove said it was all just "Inside-the-Beltway" fighting on "Fox News Sunday":
Chris Wallace: "Would you pick Rush over Powell?"
Rove: "Yes, if I had to pick between the two. But you know what? Neither one are candidates. Neither one of those are people who are offering themselves for office. This is a false debate that Washington loves. The real debate takes place out there in the real world by people getting out there and encouraging the kind of candidates who represent their vision for the party."
The latest on Nancy Pelosi
Republicans hope to keep alive the controversy over whether House Speaker Nancy Pelosi was less than forthcoming about briefings detailing Bush-era waterboarding and other "enhanced interrogation techniques" and her claim the CIA misled her and the entire Congress. On Sunday, Democrats fought back:
King: "Did the speaker make a mistake in escalating this by saying the CIA has repeatedly lied to Congress?"
Sen. Barbara Boxer: "Well, the speaker didn't say that. The press said to her, "did the CIA lie?"
King: "She said misled, and they said "do you mean lie," and she said 'yes'."
Boxer: "And she said,' yes, they misled'. But let me tell you who out and out said that they lied. Peter Hoekstra, a Republican, who was the head of the intelligence committee at the time she was as well. So this is so political. It's really, to me, you know, just knowing all the players, it's clear what it's about. They want to get Nancy Pelosi. This whole issue is a matter of not who knew what when, but who did the wrong thing. Who, in fact, broke American law? Who, in fact, broke faith with treaties, international treaties, one of which Ronald Reagan signed, against waterboarding and torture. So they want to turn it around. They want Nancy Pelosi gone because she's a very effective leader."
And even Gingrich, who previously had called for Pelosi to resign, seemed to soften.
"I think all she's got to do is go the floor of the House and apologize. She ought to say she exaggerated, what she said was not true about the CIA." -- Newt Gingrich on "Meet the Press"
The Supreme Court position
Obama spent the weekend up in Camp David but an interview with CSPAN that aired on Saturday kept him -- and the question of who he would pick to replace retiring Supreme Court Justice David Souter -- very much on people's minds. Read more on qualities Obama wants in a nominee
There was plenty of advice on this subject on "State of the Union." Here's a sample:
King: "Michelle Obama says he doesn't have to pick a woman. What does Barbara Boxer say?"
Sen. Barbara Boxer: "Of course, he doesn't have to, but Barbara Boxer and Olympia Snowe across party lines have written to the President, said, Mr. President, there is only one woman on the court and there are eight men. Frankly, if it were reversed, I would be saying, appoint a man. You just need that point of view."
"What we need on the court is not necessarily a woman, not necessarily a man, but the best person that's going to follow the law, not somebody that is going to radicalize the Supreme Court." -- Sen. Richard Shelby

E-mail to a friend

All About Tom Ridge • Guantanamo Bay • Republican Party • Nancy Pelosi • U.S. Supreme Court