WASHINGTON (CNN) -- The U.S. State Department wants to extend the same benefits to partners of gay and lesbian American diplomats as their heterosexual counterparts enjoy, according to a notice that Secretary of State Hillary Rodham Clinton is preparing to send out to employees.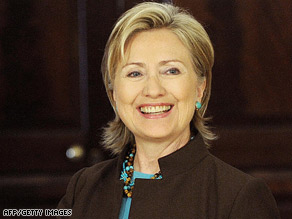 Secretary of State Hillary Rodham Clinton is proposing changes to the agency's benefits policy to fix "inequities."
"Historically, domestic partners of Foreign Service members have not been provided the same training, benefits, allowances and protections that other family members receive," the notice says. "These inequities are unfair and must end."
The change, however, is not a done deal, a senior administration official familiar with the memo said Sunday morning. The State Department cannot change policies without interagency review, the official said.
The official, who is not authorized to speak publicly about the matter, did not want to be named.
Currently, domestic partners in same-sex relationships with Foreign Service members are not eligible to take part in special early-round applications for jobs at embassies, as heterosexual spouses can.
They are also not covered by their partners' health insurance, lack access to U.S. medical facilities abroad, and are not eligible for emergency evacuations.
Until now, the State Department had withheld these benefits citing the Defense of Marriage Law, which restricts the recognition of same-sex marriages on the federal level.
If the State Department makes the proposed changes in its regulations, those benefits -- and many others -- will become available.
Don't Miss
"Providing training, medical care and other benefits to domestic partners promote the cohesiveness, safety and effectiveness of our posts abroad," the note says.
It will also help attract and retain personnel and, the note adds, "it is the right thing to do."
A member of the group Gays and Lesbians in Foreign Affairs Agencies provided CNN with a draft copy of the note.
Two State Department officials independently confirmed the note's authenticity. They did not want to be identified because the memo is not public yet.
E-mail to a friend

CNN's Jessica Yellin and Jill Dougherty contributed to this report.
All About Same-Sex Marriage • U.S. Department of State • Hillary Clinton • GLBT Issues