From Larry Lazo
CNN





WASHINGTON (CNN) -- As President Obama reminds Americans that Memorial Day is more than the casual start of summer, many veterans advocates are eagerly waiting for more details about his plans for a revamped veterans program.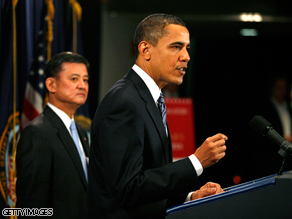 President Obama and VA Secretary Eric Shinseki during address to VA employees in March.
Monday is "a time to reflect on what this holiday is all about; to pay tribute to our fallen heroes; and to remember the servicemen and women who cannot be with us this year because they are standing post far from home -- in Iraq, Afghanistan and around the world," Obama said in his weekly address Saturday.
The White House recently proposed a significant budget increase for the Department of Veterans Affairs, including an 11 percent hike in fiscal year 2010 -- Obama says that's the largest single-year funding increase for the agency in three decades. The president's budget also calls for a $25 billion increase in funding for the VA over the next five years.
"It's a commitment that will help us provide our veterans with the support and benefits they have earned, and expand quality health care to a half million more veterans," Obama said.
The federal government is establishing a new system for updating medical records of servicemen and women which, Obama has said, will "cut through red tape" and allow new veterans to start receiving their benefits more quickly.
Obama "has been very engaged with the veterans community and he's asked for counsel with the veterans organizations, including AmVets, all along the way," said Ryan Galluci, an Army veteran who now works with AmVets -- a group that represents about 250,000 military veterans and their families.

Watch interview with veterans advocate Ryan Gallucci »
In March, the administration abandoned a controversial plan to charge private insurers for treatment of veterans' service-connected ailments. Veterans' representatives and members of Congress angrily opposed the proposal, which White House spokesman Robert Gibbs claimed was never finalized.
"We've got to look at the fact that he's a new guy in a new job. He's going to make mistakes in the future and we should expect that -- but we shouldn't accept it," U.S. Rep. Brian Bilbray, R-California, who serves on the House Committee on Veterans' Affairs.
"I think to deny a veteran the comfort of being in the family veteran service structure was the wrong [thing] to do, and this president admitted he made a mistake and corrected it," Bilbray added.
The White House said the idea had been considered because it was looking for ways to save the VA money.

Obama, in his address Saturday, said the United States has let down veterans in the past -- but that will stop with his administration.
"We have failed to give them the support they need or pay them the respect they deserve," he said. "That is a betrayal of the sacred trust that America has with all who wear -- and all who have worn -- the proud uniform of our country. And that is a sacred trust I am committed to keeping as president of the United States."
E-mail to a friend

All About Barack Obama • Veterans' Affairs