By
John King
CNN Chief National Correspondent





Editor's note: On CNN's "State of the Union," host and chief national correspondent John King goes outside the Beltway to report on the issues affecting communities across the country.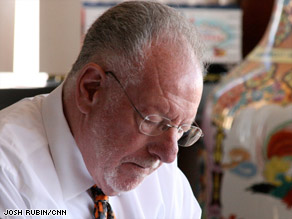 Mayor Oscar Goodman says economic trouble hit Las Vegas "virtually overnight."
LAS VEGAS, Nevada (CNN) -- A search online turns up rooms at Fitzgeralds Casino and Hotel for as low as $26 -- a sure sign the recession is taking a toll on Las Vegas and rates are being slashed to attract visitors.
Judy Bagley, a casino cashier who traded chips for cash and vice versa, found out about recession's toll another way.
"My supervisor came and said I had to close the booth and she was going to count me out and I was to go and meet with the manager and director," Bagley told CNN. "When I went up there they said my services were no longer needed and my job was being eliminated."
So three months ago, after more than 28 years at Fitzgeralds, she was out of work.
"It felt like I was more or less stabbed in the back after all the years I had been there," Bagley said. "I'd been very loyal to the company and never called in sick and I have very little discipline [issues] and it felt like betrayal."

Watch Judy Bagley talk about her abrupt dismissal »
The sting became a little less personal as she watched more and more friends and colleagues lose their jobs.
"It was probably the economy with the banks in bad trouble and things like that," she said. "You know this is not any fault of the casinos. ... It's never been this bad before, with all the foreclosures that are going on in the city and all over this state, with people being laid off and jobs eliminated."
At Fitzgeralds the motto is "Luck of the Irish." But, by the numbers, this is hardly a lucky time in Vegas:
Nevada's unemployment rate is 10.4 percent.
The number of visitors arriving in Vegas by plane in March 2009 was down nearly 12 percent from March 2008, according to the Las Vegas Convention and Visitors Authority.
Attendance at Las Vegas conventions was off 30 percent in that same March to March comparison.
And the average daily hotel room rate -- they drop when the vacancy rate is up -- was down more than 31 percent in the city's March 2008-March 2009 comparison.
"These are times completely different than anything I have experienced in my lifetime," Mayor Oscar Goodman told CNN in his City Hall office. "I didn't see this coming, and when it hit it hit virtually overnight."
'State of the Union'
John King reinvents Sunday talk: more time for more politics.
Sunday, 9 a.m. ET

The mayor believes the troubles were exacerbated by a remark President Obama made back in early February during a dustup about spending by financial institutions taking federal bailout money.
"You can't get corporate jets, you can't go take a trip to Las Vegas or go down to the Super Bowl on the taxpayer's dime," Obama had said.
Mayor Goodman believes Obama made a mistake in mentioning Las Vegas, but sees a chance to rectify the problem. Obama is scheduled to travel to Las Vegas in the coming week, and Goodman is hoping to make a point.
"If I ask him the question, 'Mr. President, isn't Vegas a great place to do business?' as he is standing here in Las Vegas, I hope he says yes."
Don't Miss
Regardless, Goodman sees signs that the worst is over.
"Now a lot of people will always be pessimistic -- and for them the glass is always going to be half empty," Goodman said. "I am a half-full guy."
Bagley has a harder time being optimistic.
Out of work for three months means lifestyle changes.
"We used to go out to eat a couple times a week. We don't do that anymore. I clip a lot of coupons to try to try to save money that way," said Bagley, whose husband is retired.
Just about every day she visits the Culinary Workers Union hall to search a jobs database.
Cashier jobs like the one she held at Fitzgeralds are hard to find -- in part because of the recession and in part because more and more of those kinds of jobs are automated. So she is expanding her search.
"I've put in applications at some of the grocery stories here in town for cashier work," she said. "You put in an application and you have 150 to 200 people applying for the same job. It is very hard to get the work."

She does not, however, assign any of the blame to Obama and the remark Goodman believes cost the city some business.
"Absolutely not," she said. "I think President Obama is doing the very best that he can and I am impressed with him and I hope that he continues to do what he feels is right for the country because I know he has our best interests at heart."
E-mail to a friend

All About U.S. National Economy • Las Vegas • Barack Obama