President Obama stood Friday before the graduates of the Naval Academy and made a vow that reflected the criticisms of the previous administration that filled much of his presidential campaign.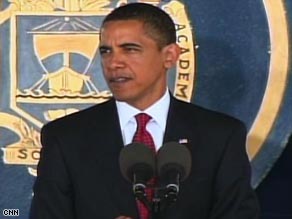 President Obama, at the Naval Academy graduation Friday, vows to "maintain America's military dominance."
"It's a promise that as long as I am your commander in chief, I will only send you into harm's way when it is absolutely necessary, and with the strategy, the well-defined goals, the equipment and the support that you need to get the job done," he told the crowd in Annapolis, Maryland.
"This includes the job of bringing the Iraq war to a responsible end and pursuing a new comprehensive strategy to disrupt, dismantle and defeat al Qaeda and its allies in Afghanistan and Pakistan."
He noted that the government has "halted reductions in Navy personnel and increased the size of the Marine Corps," and he said, "We will maintain America's military dominance and keep you the finest fighting force the world has ever seen."
Obama also promised additional assistance to military families, vowing that "we will be with you every step of the way, increasing your pay, increasing child care and helping families deal with the stress and separation of war." And he said new laws will help ensure that veterans are well taken care of.
The event -- the president's third and final commencement address of the year -- was notable in part for someone who was in attendance: Sen. John McCain, Obama's former rival for the presidency, who was celebrating the graduation of his son, John Sidney McCain IV.
More commonly known as Jack, he is the fourth McCain to graduate from the academy, and the fourth with the same name. He was to receive a bachelor of science degree, take an oath and be commissioned as an ensign in the U.S. Navy 103 years after his great-grandfather did the same.
Each member of the class at the graduation stepped up to the stage, shook hands with the president, and received a diploma.
E-mail to a friend

All About John McCain • Al Qaeda • U.S. Navy Activities • Barack Obama • U.S. Marines Activities