By Lee Woodruff
Special to CNN





Lee Woodruff has collaborated with The Bob Woodruff Foundation and ReMIND.org to launch Tweet to ReMIND, hoping to harness the power and popularity of the Twitter community to tell Americans about the plight of injured U.S. veterans.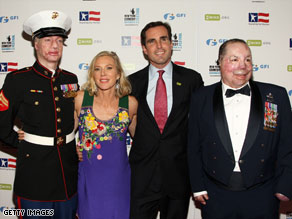 Lee and Bob Woodruff, center, attend "Stand Up For Heroes: A Benefit for the Bob Woodruff Foundation."
If someone risked his or her life for you, would you give him or her a dollar?
That's the premise of Tweet to ReMIND, and that's what I'll be Tweeting about this Memorial Day weekend. The goal is to raise $1 for every U.S. service member deployed since 9/11, each of which will directly supply our wounded veterans returning from Iraq and Afghanistan with the resources they need to heal and restart.
Memorial Day is supposed to be a time to honor those who served their country, many of whom gave their lives. But most of us see it as a another three-day weekend, a kickoff to summer; and a chance to sleep in, fire up the grill, and open up the pool for the season.
But for the Iraq and Afghanistan war veterans who return home, each day is pretty much just like the next. An unfathomable number of our service members have been injured in these wars. Aside from the physical injuries, a recent study conducted by the RAND Corporation estimates more than 320,000 service members returned home with traumatic brain injury, and 300,000 suffer from post traumatic stress disorder, depression and anxiety. That is nearly one in five who have deployed.
While we fret over real estate values and job security, these men and women worry about their lives. As the wife of a journalist who was gravely injured by a roadside bomb in Iraq, I feel I have acquired the knowledge necessary to speak up about what our service members need.
Don't Miss
We must separate the war from the warrior. We have to support those who have volunteered to be there and have come home changed.
But upon their homecoming, the system often fails these people. Especially those with long-term disabilities such as the brain injured. There are only four Veterans Affairs Centers of Excellence for Traumatic Brain Injury around the country, and wounded vets and their families must make choices about where to go for rehab. This often means a wife or mom and dad giving up his or her job and income to be by their loved one's side during treatment.
Families with a loved one in a long-term rehab situation need access to private care facilities in their hometowns -- facilities that have been treating brain injuries or conducting rehab for decades.
I consistently hear about the struggles families have navigating the system. Work must be done to improve the long-term tracking of our wounded and their families. Communication channels between the VA and veterans as well as their families need to be improved. Additional funding must be approved to compensate caregivers of veterans. Guidelines need to be clarified to ensure injured service members continue to receive combat pay during their recovery.
In 2007 Congress announced it would provide $900 million for traumatic brain injuries and post-traumatic stress disorder in the military. I want to know, where is that money? What is being done with it? As the months tick on, families are struggling, and some are not making it.
This money must not only be set aside for research, for long-term discoveries that will help people down the road. The majority of the money must be used to help the families of those who are wounded now, who are battling every day on the long road to recovery in the areas of rehab, retraining, re-employment, and overall assistance with reintegrating back into their communities.
In both Operation Iraqi Freedom and Operation Enduring Freedom, we seem to be present as a country on the surface, but not really in it for the long haul. We shake a soldier's hand or smile when we spot one in uniform at the airport. And then we go back to our lives, our schedules, our jobs and our homes, while scattered throughout our own country are the living, breathing casualties of these wars.
"Some of us went to war and the rest of America went shopping," René Bardorf, executive director of the Bob Woodruff Foundation, said to me once, and her words have stayed with me. I think about other Marines I know, like Colin, who was shot in the head two years ago on a rooftop in Iraq. He was 19. Colin's dad spends each day with him as he undergoes therapy for a debilitating brain injury. And while he is making great strides, his life is circumscribed in so many ways.
Like many Americans, I'll be planting flowers and grilling burgers this Memorial Day weekend, while someone else's daughter, husband or son is on patrol half a world away, braced for the possibility that at any minute he or she could be hit by a sniper.
The Obama administration has pledged that our wounded military and their families are a priority. As I watched President Obama recite his oath, I felt a surge of hope that perhaps our country might finally put its patriotism into action where our heroes are concerned.
Yes, there is so much more the government can do, but we can also come together. Hire a veteran. Seek out reservists and ask how they are getting by. Does a military family need a hand with child care? Or a meal? And if you don't know someone personally who has served -- there's still a way you can help.
Which brings me back to my initial question: Would you give a dollar to someone who risked his or her life for you? We've set up TweetToReMIND.org so you can do just that.
E-mail to a friend

All About Bob Woodruff • U.S. Department of Veterans Affairs