By Ed Henry
CNN Senior White House Correspondent





WASHINGTON (CNN) -- When the legendary journalist Helen Thomas was poking White House spokesman Robert Gibbs in the briefing room earlier this week, the topic was gun control, as she demanded in her over-the-top style to know why President Obama backs away from everything these days.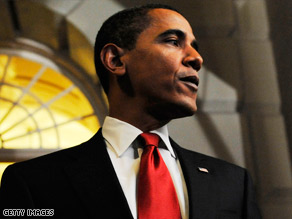 President Obama has come under fire from Democrats in Congress on his plan to close Gitmo.
But it seemed to me that Gibbs broadened the answer in a telling way after Thomas amended her question to whether Obama is shying away from almost everything. He shot back: "I think the president is making decisions that he feels are in the best interest of this country on a whole host of issues right now."
That whole host of issues also clearly includes detainee policy regarding alleged terrorists, where Obama is taking heat from liberal allies who believe he dramatically shifted course and moved too far to the middle last week, by first reversing himself on a decision to release prison abuse photos and then deciding to restart former President Bush's military commissions that had been suspended in week one of the Obama administration.
The latest flare-up came Tuesday, when Obama's fellow Democrats in the Senate declared they would not provide the $80 million he requested to close the military prison at Guantanamo Bay, which holds about 240 terror suspects.
Key Democrats still share the goal of the president's executive order signed in the first days of the new administration demanding the detention center be shut down next January. But now they will not cough up the funds until Obama lays out a more detailed shutdown plan -- a tacit acknowledgement Republicans have gained at least some political ground with their sensational claims that terrorists could wind up dumped on the streets of America a few months from now unless there is a coherent strategy to close the prison carefully.
All of this has suddenly thrown Obama on the defensive, which is why on Thursday he will try to go back on offense by delivering a big speech that Gibbs promises will detail a hefty part of the president's plan to shut down Guantanamo.
More broadly, aides say, the president wants to speak more about his decisions to release the so-called torture memos but not make public the prison abuse photos, as well as whether those harsh interrogation techniques really worked as former Vice President Dick Cheney keeps claiming.
As Gibbs suggested to Thomas in their sharp exchange, Obama believes he's acting in the best interests of the country, even if it's upsetting some of his allies.
Later in the same press briefing, Gibbs noted that the president often privately says that the files in red folders that wind up on his desk in the Oval Office are usually the hardest. The easy decisions don't get to his desk, Gibbs said.
An indisputable fact. But the question now is whether Obama as a presidential candidate misjudged the complexities of what his predecessor called the war on terror. And after suggesting in week one that he was making a clean break from the Bush-Cheney years in the execution of that war, is he now backpedaling into some of the Bush-Cheney positions?
On the first part of that, Gibbs insists Obama has not made some dramatic discovery since taking office.
"Obviously, I don't think the president was under any illusions this was going to be easy in the campaign," he said. "He's not under any illusion that its going to be easy now."
When I pressed Gibbs last week about whether his boss is now falling back into some of the Bush-Cheney positions, the press secretary fired back that it was Obama who in week one banned the enhanced interrogation techniques.
"If I understand the former vice president of the United States correctly, I'm to understand that he doesn't necessarily agree with that, marking somewhat of a change from the previous administration's discourse of justice," Gibbs said, with a hint of sarcasm, about Cheney.
Gibbs is now basically promising that in Thursday's speech, the president will get beyond the tit for tat with Cheney to explain in a more comprehensive way his thinking on these complex issues that admittedly have no easy answers.
Republicans like the former VP will be listening closely. And so will the president's fellow Democrats.
E-mail to a friend

All About Barack Obama