By Jared Polis
Special to CNN






Editor's note: Rep. Jared Polis, a Democrat, represents Colorado's 2nd District in Congress and is appearing in CNN.com's "Freshman Year" series along with Rep. Jason Chaffetz, a Republican from Utah.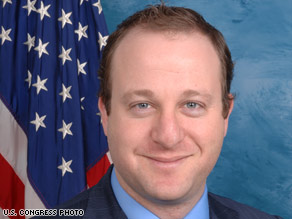 Rep. Jared Polis says playing on a congressonal ball team is a way to bond with other members of Congress.
(CNN) -- I often get asked what I do during my free time. The nature of this job is such that there really isn't much downtime. I usually work from 8 a.m. until 9 p.m., and spend a few hours catching up on e-mail when I get home.
It's even busier when I'm back in Colorado, going from event to event all day on Saturday and Sunday.
One thing I can always make time for is baseball. Every year there is a full nine-inning baseball game between the Republican and Democratic members of Congress, and I have been looking forward since orientation to the game (at 6 p.m. on June 17 at Nationals Stadium). Baseball has always been one of my passions, both as a fan (Rockies and Padres) and as a participant.
Ever since playing on my varsity baseball team in high school, I've always played in one or two baseball tournaments each year. I am really excited that we have the opportunity to play in Congress. So excited, in fact, that I have nearly perfect attendance at our 7:00 to 8:30 a.m. practices, held Tuesday through Thursday each week. It's also a great chance to bond with my fellow members of Congress on the field.
Softball is a sport where it's easy to find a recreational team and join, and over the years, I've played on several company teams as well as a Democratic team in Boulder, Colorado. But it's much harder to find recreational opportunities to play baseball. The Congressional baseball game is ideal. We hit, catch, and scrimmage a bit after warming up, and coach Mike Doyle, D-Pennsylvania, scouts us all so he can figure out the best nine to field out of the two dozen players who show up.
Members of Congress are usually pretty intense and competitive people. They tend to be good at things or they wouldn't have gotten where they are in life. Baseball is no exception. Many of these men in their 50s and 60s play quite well. Our team has good range in the outfield, can handle the infield well, and boy, can they hit. I played first base for a bit and our shortstop and third baseman made every throw to me perfectly.
Players in their 20s and 30s can compensate for lack of skill with pure athleticism, but the true marker of skill is performance into your 60s. Even though the Democrats have lost for the past several years, I feel good about our prospects this year.

Watch reports from Polis, another freshman congressman »
Back home in Colorado, the line between "work" and "play" is more ambiguous. Amid the typical appearances, I sometimes get to go to an event that is both really fun and politically important. One such event recently was the annual Microbreweries for the Environment benefit, held a few blocks from my home in Boulder at the Boulder Theater, one of my favorite venues for bands, events, and movies. This annual event brings together some of Boulder's finest bands and brews to raise money to protect the environment.
I got to sample some of the local brews, including some chocolate beer, and even my partner Marlon, who hates beer, tried some for the second time in his life!
I got to speak between bands and gave a quick shout-out for the environment.
In the coming weeks, Congress will have one of the most important environmental debates in our nation's history. No less than the future of our planet is at stake, and this is really our last best chance to address global climate change and reduce our carbon emissions.
The battle lines are being drawn around the "cap and trade" debate, which would guarantee reductions in our carbon emissions and reduce the (already unavoidable) impact of global climate change.
One of the keys to passing a comprehensive energy bill is to motivate some of the very same young people who attended Microbreweries for the Environment, and who turned out in force to help nominate and elect President Obama, to engage with the cap-and-trade issue and demand action from Washington.
Now is the time for young people, who have the most at stake in our planet's future, to make their voices heard.
While detractors claim that transitioning to sustainable energy will slow our economy, I've seen quite the opposite. Not only are the costs of doing nothing astronomical in terms of coastal flooding, damaged agriculture, and new weather patterns, but the benefits of taking action will help create thousands of green jobs and an entirely new green energy industry.
Last week I attended the dedication of a new factory in Longmont, Colorado, that makes solar panels and will be hiring 400 people in the coming months. Their product will be more competitive if we can pass cap and trade. I also walked on the roof of one of our schools in the Boulder Valley School District, that features a "sundolier" -- a device that focuses light from the sun into the classroom and eliminates the need for artificial lighting. Passing cap and trade will help these renewable energy companies grow, create jobs and shareholder value, and save our planet.
Nobel Prize winner Al Gore did an excellent job publicizing the dangers of climate change. Responsible individuals across our country are taking action by using low-energy light bulbs, purchasing fuel-efficient and hybrid vehicles, and trying to live their own lives more sustainably.

Now we need to act together as a society before it is too late. Global warming is occurring, but bold actions now can reduce the future impact significantly. This is why it is so urgent we cap and reduce our carbon emissions starting now. I hope that young people who stand to lose so much engage in this debate and help push meaningful new environmental laws through.
The opinions expressed in this commentary are solely those of Jared Polis.
E-mail to a friend

All About Baseball • Global Climate Change • Nature and the Environment