By Jason Chaffetz
Special to CNN





Editor's note: Rep. Jason Chaffetz, a Republican, represents the 3rd District of Utah in Congress and is appearing in CNN.com's "Freshman Year" series, along with Rep. Jared Polis, a Democrat from Colorado.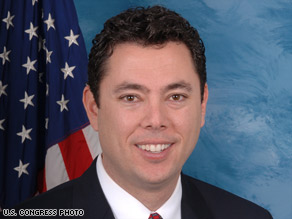 Jason Chaffetz says his first bill would restrict the use of whole-body imaging at airports.
(CNN) -- As a freshman in the minority party, I have to work hard and work smart if I want to get legislation passed. I'm in the very familiar position of having the odds stacked against me.
During my campaign, I made my priorities very clear to voters. I assured them I would spend my political capital on the core issues of fiscal discipline, limited government, accountability and strong national defense.
Obviously, I won't sponsor anything that is at odds with those principles. But the more difficult task is to stay focused on those priorities rather than to become distracted by unrelated issues. Each of us has limited political capital to spend. My goal is to spend that capital on the issues I told voters I would pursue.
Last month, I introduced my first piece of legislation: a bill restricting the mandatory use of whole-body imaging at airports. This is an invasion of privacy that is inconsistent with the principles of limited government. Because of the stark detail these images capture, I believe people should have a choice to opt out of this type of screening.
The images offer a disturbingly accurate view of a person's body underneath clothing, even allowing Transportation Security Administration officials to distinguish gender or see the sweat on a person's back. Americans should not be required to expose their bodies in this manner in order to fly.

Watch reports from Chaffetz, another freshman congressman »
I became aware of this problem as I traveled back and forth between Utah and Washington. Salt Lake International Airport is testing whole-body imaging as a primary screening device. When I learned that the TSA was looking to make these devices mandatory at all airports, I asked my staff to investigate.
Don't Miss
In order for a minority-sponsored bill to pass, I recognize that there must be broad support from across the political spectrum. Already, the American Civil Liberties Union has expressed support for the bill, as have privacy advocates around the country. This is not an issue driven by partisanship.
I am hopeful that we can garner bipartisan support for this bill. I plan to continue putting forward legislation that I believe will promote and uphold the principles of freedom that made this country great. My political capital as a freshman Republican may be somewhat limited. But as a congressman, I still have amazing opportunities to impact the debate.
There is more legislation to come. I intend to push for progress on all four of the principles I promised to promote. On fiscal discipline, I continue to work with my staff to go through the federal budget, line by line, as suggested by President Obama. On the issue of accountability, I have introduced a bill to require utility companies to disclose the amount of money that cap-and-trade policies would add to individual utility bills.
On strong national defense, I visited the detention facility at Guantanamo Bay, Cuba, as part of a congressional delegation to investigate for myself the issues surrounding the proposed closure of that facility.
There is no match for our detention facility in Cuba. The natural geographical barriers, remote location and physical structure are uniquely suited to securely detain those who wish our country harm. Furthermore, interrogation techniques like waterboarding are not used there.
After visiting and seeing with my own eyes the extent of our investment in this facility, I feel more strongly than ever that closing it would be a mistake. Upon learning the issues, I wrote to the president and expressed my concerns about the decision.

I look forward to the day when Republicans once again hold the majority. But I don't have to wait for that day to come before I can begin working on my priorities. There is plenty of opportunity to find common ground on the issues that matter most.
The opinions expressed in this commentary are solely those of Jason Chaffetz.
E-mail to a friend

All About Transportation Security Administration • Guantanamo Bay • Federal Budget