(CNN) -- Voters in California went to the polls for a special election Tuesday to vote on budget measures designed to reduce the state's growing deficit, which has been called a "financial Armageddon."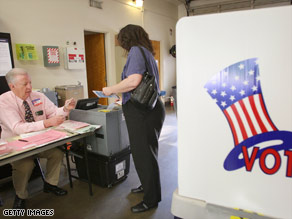 California residents are voting to decide on measures that could impact the state's growing deficit.
Residents weighed in on six propositions -- a mixture of tax changes, borrowing, reforms and shifting of funds -- to determine the rigorousness of budget cuts for the next year.
If the propositions fail, the governor said he will have to make cuts to schooling and health care and would likely need to release a large number of inmates from the state's prison system.
California Gov. Arnold Schwarzenegger and legislators have been wrangling for months over how to close the deficit.
Despite a budget agreement reached months ago, the deficit would hit $15.4 billion at the start of the new fiscal year in July, even if all measures are approved Tuesday. If the measures are defeated, the deficit would inflate to $21.3 billion, Schwarzenegger's office said last week.
California resident and iReporter Melissa Fazli told CNN she was upset to even be voting on these provisions and thought politicians should have been making these decisions.
"It's just not right. We voted these people in in order to stand up for us and make the decisions that needed to be made and they dropped the ball," she said. "And they just passed it on to us." iReport.com: Fazli expects Schwarzenegger will be disappointed
Pollsters expect statewide voter turnout may not even reach 30 percent. iReport.com: Low turnout in California election
Some voters expressed voting fatigue, while others said the complexity of the issues on the ballot could be responsible for a low turnout. In addition to budgetary issues, residents will also vote on an open seat in a Los Angeles-area state Senate district and the open Southern California congressional seat vacated by U.S. Labor Secretary Hilda Solis. iReport.com: California special election a waste of taxpayer's money
A CNN photographer spent two hours Tuesday morning waiting for voters at two polling places in Los Angeles and encountered just one.
Schwarzenegger was in Washington on Tuesday.
"I did vote absentee," the governor said. "I'm looking forward to the outcome tonight."

Is the governor failing California? »
California GOP chairman Ron Nehring said he didn't think the governor's absence would change anything.
"I think that the outcome of today's election is clear," he said. "Propositions 1A-1E are going to be defeated, and that's going to occur regardless of where the governor happens to be."
There is one provision, however, that seems to be gaining some traction.
James Safarik, a retired Los Angeles County engineer, told the Los Angeles Times for the most part, he's indifferent about all of the provisions.
"Except for the one that says not to grant politicians pay raises," he told the Los Angeles Times. "That one, I can vote for."
Proposition 1A deals with increasing contributions to the state's rainy day fund -- reserve money to use during difficult times. It would also extend tax hikes for up to two years and place a cap on spending. Proposition 1B would mandate payments to schools to restore cuts, but will only be enacted if proposition 1A passes.
Proposition 1C would allow borrowing against lottery money as a way to avoid more cuts. Propositions 1D and 1E, if approved, would transfer money for children's and mental health services, for budget needs.
Proposition 1E, the one Safarik favors, would not allow raises for public officials if the state is expected to end the year with a deficit.
If all measures fail, Schwarzenegger warned he will have to take drastic measures to help with the budget crisis.
That includes shortening the school year by a week and a half, cutting tens of thousands of education jobs, eliminating health insurance for nearly a quarter-million low-income children, laying off 1,700 state firefighters and withholding $2 billion from local governments, which could trigger cuts in law enforcement and other services.
A defeat of the provisions could also mean 38,000 inmates in the California prison system may be freed and the state may be forced to sell the notorious San Quentin prison -- home to Scott Peterson.
"If they are non-serious or nonviolent, non-sex offenders, we could save in general funds about $53 million in 2009 to 2010," the governor said.
About half the prisoners who may be freed are illegal immigrants, Schwarzenegger said.
"Releasing all the undocumented immigrant prisoners to the federal custody could save us another $182 million for 2009 to 2010," he said.

But that plan is one that has some people, including Lance Corcoran of the Peace Officers Association worried.
"The reality is that people don't get to the California prison by accident and most of our offenders have nine felony convictions before they have ever seen the inside of the prison," Corcoran said. "There is concern that we are just dumping people back into communities and those communities are going to be at risk."
E-mail to a friend

CNN's Casey Wian and Ted Rowlands contributed to this report.
All About California • Arnold Schwarzenegger