By John Feehery
Special to CNN





Editor's note: John Feehery worked as a staffer for former House Speaker Dennis Hastert and other Republicans in Congress. He is president of Feehery Group, a Washington-based advocacy firm that has represented clients including News Corp., Ford Motor Co. and the United States Chamber of Commerce. He formerly was a government relations executive vice president for the Motion Picture Association of America.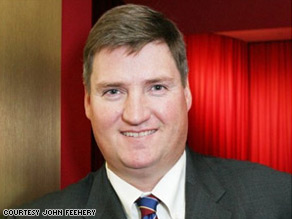 John Feehery says health reform should fix what's broken and not disturb what's working.
(CNN) -- We know what the president wants when it comes to health care reform. We know what Sen. Ted Kennedy and Rep. Henry Waxman want. And we know what interest groups really want from any health care reform effort.
But what do the American people want when it comes to comprehensive health care reform?
Stanford University, in a new comprehensive study, has tried to find out. Its Center on Longevity commissioned a huge qualitative and quantitative study to dig deeper into what the people really want from health care reform.
The study included discussions among professors and other experts, small-business owners and human resource managers. Stanford's pollsters then did an online survey of more than 2,000 registered voters, getting their reactions to six detailed proposals: three on cost containment and three on access.
What the study found suggests that the Obama administration should tread carefully when it plots its legislative strategy on health care.
For example, most people are pretty satisfied with their own health care. According to the survey, although 68 percent believe that the health care system does not work well for the public at large, 62 percent of Americans feel that it works well for them personally.
Don't Miss
This finding tracks with other polls suggesting that any reform effort should fix the problems in the system without sacrificing what is working.
That suggests that a public option, a Democratic-proposed government-funded health insurance policy that could be made available to Americans who don't have health insurance -- a proposal that critics say may lead many businesses to drop health care coverage for their employees -- could be very unpopular with voters. It could prove politically dangerous for the president if it leads to people losing the health care they have.
The research also suggests that there is no consensus around any particular proposal and that partisan differences lead to different conclusions about the best solutions. For example, although dealing with health care is a very high priority for Democrats, it is far lower with Republicans. Add the possibility of a tax increase to the mix, and enthusiasm among both independents and Republicans drops further.
Democrats care more about increasing health care access than either of the other groups. But everybody cares about health care costs, which suggests that cost containment would be a good place to start fixing the problem.
Former House Minority Leader Dick Gephardt reached that conclusion a couple of months ago when he told the New York Times that the White House should consider deferring the goal of expanding access to health insurance "until it enacts cost-saving reforms in health care delivery."
According to the study, congressional GOPers seem to be completely in sync with their voters, but perhaps not with the public at large.
The survey found that health care is below taxes and immigration as the top concern for Republican voters. They are also far more concerned about a government takeover of health care than either Democrats or independents. But for Republicans to be successful in Congress, they will need to find ways to expand their message beyond their base voters.
Their earlier efforts to control costs by giving consumers more control over their health care spending with products like health savings accounts have only limited appeal, according to the survey, as many Americans don't want to pay the higher out-of-pocket costs associated with spending accounts.
The fear of increased taxes may be one way to garner greater support for their cause. The survey shows that a sizeable percentage of Americans are not comfortable with increased taxes to pay for expanded government health care. This is especially true when it comes to plans to implement universal government-run health care.
The American people are more pragmatic about health care than their political leaders. They want a health care system that is affordable and accessible. They don't want to be dropped from their coverage, they want to bring it with them if they change jobs, and most important, they want to be able to see their doctor when they need to.
They don't want the government to get in the middle of their relationship with their doctor. Of course, as we know with Medicare, if the government wants to pick up the tab for health care, most Americans would be fine with that, as long as they don't have to pay for it eventually.
Tradeoffs are an essential part of the discussion when it comes to health care reform.
Giving universal access to everybody is going to cost a lot of money, and that will probably come from higher taxes. Cutting costs may lead to health care rationing or diminished quality. Giving people more power to negotiate health care costs, with health saving accounts, may lead to higher out-of-pocket costs. Expanding existing government programs may lead to higher taxes and less access to doctors.
For the president to be successful, he will have to come clean with the American people about the tradeoffs, and he will have to explain why those tradeoffs are necessary even as many Americans fear that they will have to pay more taxes or get lower quality health care in return.
For Republicans to be successful, they will have to come up with a plan that will attract the support not only of their voters but of independents and moderate Democrats who want to cut health care costs but are satisfied with the quality of their care and don't think the tradeoffs that will lead to higher taxes and diminished quality are worth it.
The opinions expressed in this commentary are solely those of John Feehery.
E-mail to a friend

All About Stanford University • Health Care Policy • Medicine