WASHINGTON (CNN) -- President Obama announced Saturday that his choice for U.S. ambassador to China is moderate Republican Utah Gov. Jon Huntsman, who expressed some surprise at the appointment.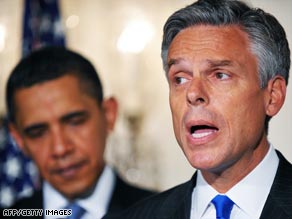 Utah Gov. Jon Huntsman is fluent in Mandarin Chinese and has an adopted daughter from China.
A national co-chairman of Sen. John McCain's 2008 presidential campaign, Huntsman said he didn't expected "to be called into action by the person who beat us.
"But I grew up understanding that the most basic responsibility one has is service to country," the 49-year-old governor said at the White House, just after Obama's announcement.
"When the president of the United States asks you to step up and serve in a capacity like this, that to me is the end of the conversation and the beginning of the obligation to rise to the challenge."
The Senate must confirm his appointment.
Huntsman, who is in his final term as Utah's governor, is fluent in Mandarin Chinese and is a former trade representative and ambassador to Singapore.

Watch why Huntsman is Obama's choice for China »
His family has an adopted daughter from China. The Salt Lake Tribune newspaper has reported that Huntsman has performed Mormon missionary work in Taiwan.
Starting his political career as a staff assistant in the Reagan White House, Huntsman worked in the State Department and Commerce Department before his election as governor in 2004, according to his biography on Utah's Web site.
"I wasn't looking for a new job in life, but a call from the president changed that," Huntsman said, telling Obama "I humbly accept your call to service."
In introducing Huntsman, Obama stressed the importance of the post, stressing China's clout on the world stage. The president said he "can think of no one better suited to take on this assignment than the governor of the great state of Utah."
Obama said he knew Huntsman's decision to take the job "wouldn't be the easiest decision to explain to some members of his party."
But he said Huntsman "is the kind of leader who puts country ahead of party" and "is always willing to sacrifice on behalf of our nation."
"Throughout his career, Jon has shown a willingness to move beyond the old ideologies and stale debates that all too often bring progress to a standstill," Obama said.
Obama said Huntsman will bring a respect for China's traditions to the job. A White House statement issued just before the formal announcement was made said Huntsman's "long service to the country also prepares him well to be frank with our Chinese friends when we disagree on human rights, democracy, and other matters."
Obama's 2008 campaign manager, David Plouffe, described Huntsman as "the one person in that [Republican] party who might be a potential presidential candidate," U.S. News and World Report magazine reported earlier this month.

He was overwhelmingly re-elected in 2008, and cannot run again due to term limits.
Clark T. Randt Jr., was U.S. ambassador to China from 2001 through January 20, 2009.
E-mail to a friend

CNN's Ed Henry, John King and Dana Bash contributed to this report.
All About Jon Huntsman Jr. • China • Barack Obama