WASHINGTON (CNN) -- Former Bush administration official Karl Rove was interviewed Friday at the office of his attorney about why nine U.S. attorneys were fired in 2006.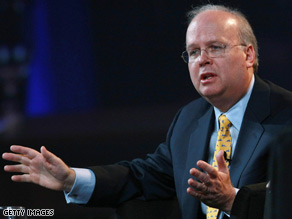 Former Bush official Karl Rove was questioned Friday about the U.S. attorney firings.
After the meeting, Rove's attorney, Robert Luskin, issued a statement: "Mr. Rove was interviewed by prosecutors today and answered all of their questions. He intends to fully cooperate with the investigation."
Rove had no comment for reporters outside Luskin's Georgetown office in northwest Washington, saying only, "Have a nice weekend."
Congress held hearings on the firings amid allegations that the prosecutors were sacked for political reasons. All were political appointees who served at the pleasure of the president, and the Bush Justice Department denied any impropriety.
A Justice Department report last year found that some of the firings were influenced by political considerations. Rove and other Bush officials refused to be interviewed for that investigation, and the Bush administration maintained that it acted properly.
The department's description of the firings as "performance-related" once the shake-up became public triggered an outcry from the fired lawyers and led to allegations of political influence on Justice Department hiring decisions and cases.
Connecticut prosecutor Nora Dannehy was appointed last year to lead an investigation into whether any Bush officials broke any laws in connection with the dismissals.
Don't Miss
Rove and Luskin arrived just before 9 a.m. ET Friday at Luskin's law office.
Rove smiled and joked with reporters but said nothing about his preparations for the interview, which lasted a little more than 3½ hours.
Dannehy smiled as she and her staff stepped in to a cab to leave. As she did before the meeting, the prosecutor declined to respond to reporters' questions.
All but one of the attorneys were let go in December 2006. Bud Cummins, then-U.S. attorney for the Eastern District of Arkansas, was dismissed in June of that year.
The House Judiciary Committee also is expected to question Rove about the matter soon.
E-mail to a friend

CNN's Carol Cratty and Paul Courson contributed to this report.
All About Karl Rove • U.S. Department of Justice