WASHINGTON (CNN) -- President Obama has chosen Dr. Thomas R. Frieden, New York City's health commissioner, to head the Centers for Disease Control and Prevention, the White House said Friday.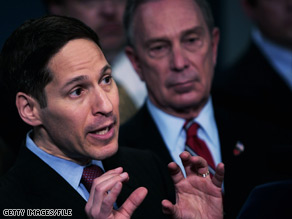 New York Health Commissioner Thomas Frieden, left, with Mayor Michael Bloomberg, discusses swine flu last month.
"Dr. Frieden is an expert in preparedness and response to health emergencies, and has been at the forefront of the fight against heart disease, cancer and obesity, infectious diseases such as tuberculosis and AIDS, and in the establishment of electronic health records," Obama said in a statement.
Frieden has been commissioner of the New York City Health Department, one of the nation's largest public health agencies, since January 2002. He worked for the CDC from 1990 to 2002.
Frieden received his medical and public health degrees from Columbia University and completed infectious disease training at Yale University. He has written more than 200 scientific articles, the White House announcement said.
"Dr. Frieden has been a leader in the fight for health care reform, and his experiences confronting public health challenges in our country and abroad will be essential in this new role," the statement said.
The CDC, based in Atlanta, Georgia, is the lead federal agency to help state and local health authorities detect and control chronic disease and infectious disease threats, including bioterrorism.
New York Mayor Michael Bloomberg praised Frieden's work for the city.
Don't Miss
"Dr. Frieden has demonstrated his talent and leadership over the past seven years, and we look forward to working with him in his new role in Atlanta," Bloomberg said in a statement.
"President Obama could not have selected a better person to lead the Centers for Disease Control to meet the challenges ahead and make the nation a healthier place."
Obama also announced that Dr. Richard Besser, who has been acting director of the CDC, will continue in his role as leader of the agency's Coordinating Office for Terrorism Preparedness and Emergency Response.
E-mail to a friend

All About Centers for Disease Control and Prevention • Thomas Frieden • Health Care Issues