By Mark Preston
CNN Political Editor





WASHINGTON (CNN) -- U.S. Sen. Arlen Specter received welcome news Thursday evening when the Pennsylvanian's only current primary challenger abandoned a run for the Democratic Senate nomination, two Democratic sources told CNN.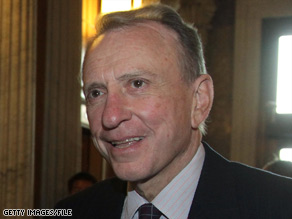 Sen. Arlen Specter announced his switch to the Democratic Party in April.
Joe Torsella, the former president of the National Constitution Center, is expected to officially announce his decision on his campaign Web site Thursday evening.
Specter and national Democratic leaders are still awaiting word on whether the former Republican will be challenged for the Democratic nomination by U.S. Rep. Joe Sestak, a Pennsylvanian who has not ruled out a Senate run.
Specter, who has represented Pennsylvania in the Senate for nearly 29 years, renounced his GOP affiliation last month and joined the Democratic Party. His switch may help give President Obama a theoretical filibuster-proof majority in the Senate.
Specter gives Democrats 59 votes in the chamber. Democrat Al Franken of Minnesota would give Democrats 60 votes if his Senate race with GOP Sen. Norm Coleman is resolved in Franken's favor.
Filibusters in the Senate can be broken with 60 votes.
It is believed that Franken, who holds a lead of a few hundred votes over Coleman, will prevail in the courts.
Obama and national Democratic leaders embraced Specter after he switched parties, and pledged to support him in his 2010 re-election bid.
E-mail to a friend

All About Arlen Specter • Pennsylvania • U.S. Senate