(CNN) -- President Obama poked fun at the travails of the Republican Party last weekend, telling the party's chairman that no, the GOP does not qualify for a bailout, and conservative radio host Rush Limbaugh does not count as a troubled asset.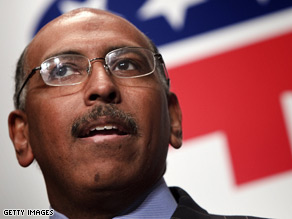 RNC Chairman Michael Steele has been unexpectedly "freewheeling," one CNN analyst says.
Though the president was just looking for a laugh at the annual White House Correspondents dinner, Republicans have a tough road ahead as they try to rehabilitate their party.
"When a party goes out of power so spectacularly as the Republicans have over the last couple of elections, it's going to take a while for a leader to emerge," said Candy Crowley, CNN's senior political correspondent. "And we should say that when a party is out of power, usually the leader emerges when they nominate their next presidential nominee."
In recent weeks, the GOP has received more attention for a steady spout of infighting than it has for its message.
The latest matchup: Republican National Committee Chairman Michael Steele vs. Mitt Romney, the former Massachusetts governor and a likely frontrunner for the 2012 Republican presidential nomination.
Steele cast doubt on Romney's conservative credentials Friday and said the Republican base rejected Romney because "it had issues with Mormonism" and was unsure of Romney's commitment to opposing to abortion rights.
Romney's camp took issue with the suggestions that the most reliable Republican voters are intolerant and fired back Tuesday, with spokesman Eric Fehrnstrom saying, "Sometimes when you shoot from the hip, you miss the target."

Watch more on Romney's response »
Sen. John McCain, Romney's former rival for the presidential nomination, also stepped in to do damage control.
"I think the fact that Mitt Romney succeeded as much as he did and remains an important and central figure in our Republican Party -- and I wouldn't be surprised to see him run again -- is a testimony, I think, to the inclusiveness of the Republican Party," said McCain, R-Arizona.
David Gergen, a CNN senior political analyst, said that based on the performance so far, he can't imagine Steele staying on as chairman a year from now.
Don't Miss
"There's a lot of buyer's remorse, I think, within the Republican Party. I don't think they expected anyone quite this undisciplined and sort of freewheeling as he is. He does shoot from the hip a lot," Gergen said. "Does this mean the Republican Party is down and out forever? No. I think ... they'll come back."
Infighting is common among Democrats, he said, "but Republicans usually heed and remember Ronald Reagan's 11th commandment. And that is, 'Thou shalt not speak ill of another Republican.'
"This party needs a chairman who can keep his mouth shut and try to keep peace, not one who throws oil on the flames," he said.
Republicans have been burned by losses in recent elections as well as the Democrats' accusation that they've become "the party of no."
In an effort to shine their image, GOP leaders kicked off an outreach campaign this month designed to connect the party heads with voters across the country.
Those involved in the initiative include Romney, McCain, former Florida Gov. Jeb Bush, Louisiana Gov. Bobby Jindal and Mississippi Gov. Haley Barbour.
They are members of the "panel of experts" that reports back to Republican congressional leaders including Rep. Eric Cantor, Rep. John Boehner, Rep. Mike Pence, Sen. Mitch McConnell, Sen. Jon Kyl and Sen. Lamar Alexander.
Not to be left out, former Arkansas governor and likely 2012 contender Mike Huckabee blasted the group's planned listening tour, writing in a column for Fox News that it was "hard to keep from laughing out loud."
Huckabee called it sad that Jeb Bush thinks the party needs to move past Reagan and equally upsetting that "it doesn't plan to listen much to the Republicans who became Republicans because they believe in the sanctity of life, traditional marriage and express support for the Second Amendment."
Although some Republicans think the party can win with ideological purity, others argue that the key is not making the party purer; it's making it bigger.
"In a country of 300 million people, for one party to have a majority of the voters, you have to be, inherently, a coalition. You have got to assemble a lot of different groups of people. And not all of those groups of people will agree on every plank in the platform," said Ed Gillespie, the former chairman of the Republican National Committee.
That split explains why the more moderate Romney sniffed when told that the more purely conservative Sarah Palin made Time magazine's 100 most-influential people list.
"Was that the issue on the most beautiful people or the most influential people?" he asked.
Party purity vs. the big tent also explains former Secretary of State Colin Powell's observation that Limbaugh hurts Republicans, Limbaugh's suggestion that Powell leave the party and former Vice President Dick Cheney's statement that he thought Powell had already left the party.
The Republican Party will find its voice, Gergen said, but first and foremost, "they need ideas."

Crowley said that at least in the case of Capitol Hill, a minority party generally comes back into power when the majority messes up.
"It's cyclical. Sometimes it takes decades. Sometimes it takes a shorter time. As far as the White House is concerned, in general, the American people tend to switch over from Republicans and Democrats. Eight years of any one party in the White House tends to be a long time for the American people," she said, adding that she thinks it will be a while before the GOP returns to a majority status on the Hill.
E-mail to a friend

CNN's Candy Crowley and Kristi Keck contributed to this report.
All About Republican Party • Mitt Romney • Michael S. Steele