NEW YORK (CNN) -- The New York State Assembly passed a same-sex marriage bill Tuesday evening, bringing New York one step closer to legalizing such marriages.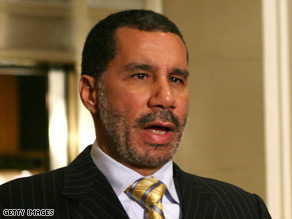 Gov. David Paterson has said he'd sign a same-sex if it's passed by the New York Senate.
The bill, which passed 89-52, will now go on to the state Senate for a vote. If it is passed there, it will go to Gov. David Paterson, who has made it clear he will sign the bill.
"I applaud ... members of both parties for moving this historic legislation forward," New York City Mayor Michael Bloomberg said in a statement released by the mayor's office.
"I hope New York will soon become the latest state to adopt a law whose time has come."
State Sen. Thomas K. Duane, a Democrat, said in a statement, "I am confident that this year my Senate will uphold this fundamental legal principle and vote for my right, our right, to be married this year."
This is the second time New York's Marriage Equality Legislation has been approved by the State Assembly -- it passed in 2007, but subsequently stalled in the then Republican-controlled Senate.

E-mail to a friend

All About Same-Sex Marriage • David Paterson • Michael Bloomberg