By Clayton Christensen, Jason Hwang and Vineeta Vijayaraghavan
Special to CNN





Editor's note: Clayton M. Christensen is the Robert and Jane Cizik Professor of Business Administration at Harvard Business School, co-founder of Innosight Institute, and the best-selling author of six books. Jason Hwang, M.D., M.B.A. is co-founder and executive director of healthcare at Innosight Institute. They are co-authors of "The Innovator's Prescription: A Disruptive Solution for Health Care" (McGraw-Hill, January 2009). Vineeta Vijayaraghavan, M.B.A. is a Research Fellow at Innosight Institute.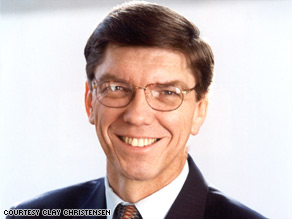 Clayton Christensen and his co-authors say it's not clear the health reform plan will be innovative.
(CNN) -- Vowing not to "continue down the same dangerous road" of rising health care costs, President Obama announced on Monday a coalition for reform that included some of health care's most powerful stakeholders.
But what is not yet clear is whether this latest attempt to fix the health care system will in fact introduce fundamental change, or simply proceed down another well-trodden road that delivers more of the same.
For example, the urgent need for more doctors, particularly primary care providers, has been raised by the president and other administration officials.
The Association of American Medical Colleges advocates a 30 percent increase in medical school enrollment to produce 5,000 more doctors a year, and one provision in the White House plan would redistribute payments from specialists to primary care doctors to improve pay equity.
On the surface, these seem to be logical steps to circumvent a system of "coverage without care," in which access to health insurance becomes meaningless without comparable access to health care providers.
However, we submit that these actions lead us in the wrong direction, and there is, in fact, no doctor shortage -- as long as we accept the fact that health care can work differently, and better than, the current system.
There IS a shortage of health care services being provided, but many of them are not best offered by a doctor. All parents know the experience of worrying whether their child has an ear infection -- treatment involves considerable pleading for a standby appointment at the doctor's office, followed by a long wait, a 30-second visit with the doctor, and then a trip to the pharmacy for another long wait.
Throw in the half-day of missed work and the stiff bill, and it becomes clear why many advocate the need for more doctors. However, a growing number of visits, incorporating quick and easily interpreted diagnostic tests and algorithm-driven care for conditions such as ear infections, sore throats and minor burns, can be handled better in nurse-run clinics.
MinuteClinic, the largest chain of such retail clinics, records average patient satisfaction scores of 4.9 out of 5, while providing care that is 32 to 47 percent below the cost of primary care physicians. While the rest of the health care system only delivers about 55 percent of recommended care, MinuteClinic staff demonstrated 99.15 percent adherence to clinical guidelines in a study involving over 50,000 visits.
There are of course thorny medical problems for which we need physician care. However, squeezing payments to specialists will only further diminish access to complex care. Instead, we must equip and empower primary care doctors to do more.
Don't Miss
Medical school graduates have overwhelmingly chosen specialty fields because of low professional satisfaction with the work primary care providers are expected to do. However, "disruptive" innovations are rapidly changing the scope of their work.
Expert systems software can guide generalists through the same decision-making steps that a specialist would take. Point-of-care diagnostics allow for diagnoses to be made promptly in the clinic, and easy-to-deploy devices are creating more options for immediate treatment.
These innovations deliver convenience to patients, eliminate the need for referrals to costlier specialists, and improve job satisfaction by enabling primary care doctors to deliver increasingly sophisticated care.
There is new technology that makes it easier for non-anesthesiologists to administer conscious sedation, for example, allowing procedures such as colonoscopies to be done under the supervision of just the endoscopist and a nursing team. By removing anesthesiologists from the equation, these procedures can be performed in a clinic setting rather than in hospitals.
By moving more complex care from specialists to primary care providers, the payments will follow. These changes would make primary care more fulfilling and financially rewarding, while freeing up specialists to do even more complicated work that merits their additional training.
One reason people think there's a shortage of doctors is that health care is unevenly distributed around the nation, with inner cities and rural communities struggling the most to find adequate staff.
However, the best solution will not come from increasing the physician supply or introducing salary incentives. Studies of geographical disparities of care have demonstrated that more physicians will likely lead to greater intensity of care -- but not better health outcomes.
Instead, we should embrace eHealth initiatives that enable virtual clinic visits and online house calls, similar to services provided by TelaDoc, American Well, and HelloHealth. Offering such convenient and affordable channels to primary and preventive care is vital to relieving our overburdened emergency departments and public health system.
The definition of quality care in the past has assumed that more expertise is always preferred -- doctors must be better than nurses, specialists must be better than primary care doctors, and brick-and-mortar must be better than a virtual interaction.
But we need to move away from the "guild" mentality that has kept boundaries narrow and created regulatory, licensing and reimbursement obstacles to new models of health care delivery.
Patients want correct diagnoses and effective therapies, but they also value accessibility, convenience, transparency, communication and their time and money -- none of which have been priorities of the traditional health care model.
Rather than calling for more doctors, which would have been difficult for the government to impact anyway, what the country really needs are policies that pave the way to more avenues of care, which is well within the government's control.
The opinions expressed in this commentary are solely those of the authors.
E-mail to a friend

All About Medicine • Health Care Costs • Medical Specializations