By Adam Levine
CNN





WASHINGTON (CNN) -- The Senate unanimously approved a bill Thursday to change the costly process of procuring weapons and equipment for the military, a budget reform pushed by President Obama.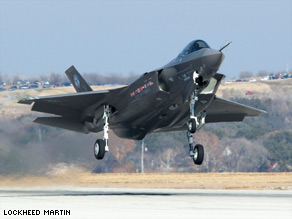 The cost of the F-35 Joint Strike Fighter has risen 60 percent over initial estimates, officials say.
Michigan Democrat Carl Levin, who sponsored the bill with Arizona Republican John McCain, called it a matter of not only saving money but protecting troops.
"Our troops have a right to the best equipment that we are able to provide them," Levin said after the bill was passed. "And when we use extra excessive funds for cost overruns on some weapon systems, that means we're denying other systems which we might be able to bring on board. ... And that means we're denying our troops, as well as soaking our taxpayers."
The bill would institute independent assessment of how weapons are acquired, increasing oversight and transparency of programs that are prone to bloated costs and deadline overruns.
Along with the Senate's 93-0 vote, a similar measure was approved by the House Armed Services Committee on Thursday by a vote of 59-0.
Levin said the Pentagon relies on unreasonable cost estimates, has unrealistic expectations for performance and "immature" technologies, and changes requirements and production levels at great cost.
Don't Miss
"What we've lacked is the discipline. We've lacked somebody with clout inside the system who can put an end to or reduce significantly these cost overruns," he said.
One aspect of the proposed changes would be the creation of a director of independent cost assessment who would report directly to the secretary of defense. The bill also would require that a contract be stopped and reassessed if the cost rose to 50 percent above the original estimate.
McCain highlighted a few weapons systems whose costs have risen dramatically, including the F-35 Joint Strike Fighter, a plane whose cost has risen to $105 million each, 60 percent more than had been estimated.
The cost of another plane, the F-22, has increased almost 200 percent, and moves are being made to cancel a program to build a new presidential helicopter after it was estimated that the cost per aircraft would be more than $500 million, McCain said.
The Obama administration is proposing eliminating the F-22 program, with a final four planes being procured this year. The F-35, however, is being funded with $6.8 billion to buy 30 planes in 2010 and another 513 planes over five years, according to budget documents released Thursday.
"This really a situation of near-crisis proportions," McCain said. "We just cannot have the kinds of cost overruns that are associated with literally -- with one or two exceptions -- literally every new weapon system that the Department of Defense acquires."
The cost of weapons program has also been a target for the Obama administration. Defense Secretary Robert Gates overhauled the defense budget in attempt to weed out weapons that he labeled as unnecessary for the military's current needs or unnecessarily expensive.
As part of that overhaul, he is replacing thousands of contract positions with full-time staff members to handle acquisitions.
The Pentagon plans to hire 20,000 full-time employees over the next five years, Deputy Defense Secretary William Lynn told the House Armed Services committee Wednesday. More than 9,000 of those will be doing contract oversight and auditing for the Defense Department. The other 11,000 will be in jobs converted from contract positions in program management, business management and logistics.
"One of the critical reasons for some of our shortcomings in the acquisition process is the lack of critical skills in the acquisition work force," Lynn said. "Over the last 10 years, defense contract obligations have nearly tripled, while our acquisition work force has fallen by more than 10 percent. In the absence of these personnel, we have outsourced too many functions that should be performed inside the department."
On Thursday, Obama sent to Congress a proposed defense budget of $663.8 billion for fiscal 2010. The request includes $533.8 billion to fund base defense programs and $130 billion to support overseas contingency operations, primarily in Iraq and Afghanistan.
E-mail to a friend

All About U.S. Department of Defense • U.S. Armed Forces