By Kristi Keck
CNN





(CNN) -- For the past eight years, the White House recognized the National Day of Prayer with a service in the East Room, but this year, President Obama decided against holding a public ceremony.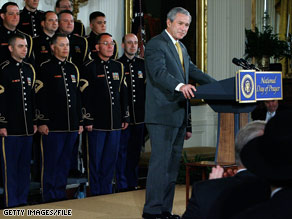 President Bush marked the National Day of Prayer with a service at the White House.
"Prayer is something that the president does everyday," White House press secretary Robert Gibbs said Tuesday, noting that Obama will sign a proclamation to recognize the day, as many administrations in the past have done.
Asked if Obama thought his predecessor's ceremonies were politicized, Gibbs said, "No, I'm not going to get into that again.
"I think the president understands, in his own life and in his family's life, the role that prayer plays."
The National Day of Prayer is an annual observance for people of all faiths.
Under the Bush administration, the White House hosted an interfaith service each year, inviting protestant, Catholic and Jewish leaders for an event at the East Room.
President Ronald Reagan and President George H.W. Bush also marked the day with a White House observance.
President Harry Truman first established the day as a national event in 1952. Reagan signed a resolution in 1988 to observe the National Day of Prayer each year on the first Thursday in May, and each president since has recognized this day with a proclamation.
The National Day of Prayer Task Force, a privately funded organization that focuses on mobilizing the Christian community, says it's disappointed in this year's toned down observance, but other groups say the president needs to go a step farther -- and ignore the day altogether.
"It's not his job to tell people to pray," said David Silverman, national spokesperson for the organization American Atheists.
"We are very happy he did away with the George W. Bush-era celebrations and party, but we wish he wouldn't do it at all. ... When church and state are separate, separate is separate," he said.
Although there are no public events scheduled at the White House, representatives from the legislative and judicial branches are expected to attend an event the National Day of Prayer Task Force is holding on Capitol Hill.
But, despite numerous attempts to get a representative from the executive office to attend, "it doesn't appear they are going to fulfill our request," said Becky Armstrong, marketing and media manager of the National Day of Prayer Task Force.
"The White House is a small part of what the national day of prayer is all about. Tomorrow there will be dozens of events held in our nation's capitol and governors from all 50 states have already issued proclamations recognizing the National Day of Prayer," Armstrong said.
"It would be belittling to those millions of people to reduce this day to merely one event not being held at the White House."
Task Force Chairman Shirley Dobson said in a statement that she was disappointed in the "lack of participation" by the Obama administration, adding that "at this time in our country's history, we would hope our President would recognize more fully the importance of prayer."
Dobson will be a presenter at that event, along with her husband and former president of Focus on the Family James Dobson, author Beth Moore, NFL player Shaun Alexander and Minnesota Rep. Michele Bachmann.
E-mail to a friend

All About Barack Obama • George W. Bush • Religion