By Terry Frieden
CNN Justice Producer





WASHINGTON (CNN) -- The U.S. Justice Department has told Congress the deadline has passed for Bush administration attorneys who wrote the so-called "torture memos" to respond to a crucial internal investigation of the lawyers' performance.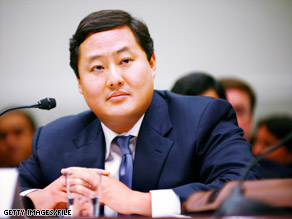 John Yoo is among ex-Bush administration lawyers given a chance to respond to the Justice Department probe.
But the department late Monday hedged on making the nearly completed investigation report public.
Sources familiar with the much-anticipated report by the Justice Department's ethics unit, known as the Office of Professional Responsibility, said it is sharply critical of the authors of the controversial policies.
Bush administration lawyers, including Jay Bybee, John Yoo and Steven Bradbury, had been given an opportunity to respond.
In a letter to key congressional leaders, the Justice Department said the attorneys under investigation had until Monday to respond to the report's findings.
The letter did not say whether the lawyers responded to the internal investigation.
The lengthy investigation has focused on whether the legal advice regarding interrogation techniques was consistent with the professional standards that apply to Justice Department attorneys. The investigation also will determine whether any findings of misconduct should be forwarded to the respective state bar disciplinary authorities for possible sanctions, which could include disbarment.
The letter from Assistant Attorney General Ronald Weich, who reports to Attorney General Eric Holder and his deputy, David Ogden, said the final report with any responses now will go to Holder and Ogden.
"After any additional review they deem appropriate, the department will determine what disclosures should be made," the letter said.
Weich told Rep. John Conyers, D-Michigan, and Sens. Richard Durbin, D-Illinois, and Sheldon Whitehouse, D-Rhode Island, the Justice Department "will be mindful of the considerable interest that Congress has previously expressed in connection with this matter."
But the communication stopped short of a promise to make the report's findings public despite suggestions from then-Attorney General Michael Mukasey it would be released publicly.
"While we appreciate your request for a disclosure commitment, we can only fully evaluate the scope of appropriate disclosures once the review process is completed," the letter said.
If the report is made public as Democratic lawmakers demand, it is certain to play a role in decisions such as whether to seek prosecutions of the former Justice Department officials, whether to appoint an outside counsel to explore criminal charges, whether to establish a so-called congressionally mandated truth commission and whether to call for more Capitol Hill hearings.
E-mail to a friend

All About U.S. Department of Justice • George W. Bush