By John King
CNN Chief National Correspondent





Editor's note: John King, CNN's chief national correspondent and "State of the Union" host, examines the news made in Sunday talk and offers up this Monday morning crib sheet on what to watch this week in politics. Please note that all quotes are from rush transcripts and are subject to change. If you'd like to receive a sneak peek of next week's news in your inbox every Sunday, you can sign up for the "Political Ticker newsletter" at http://www.cnn.com/profile/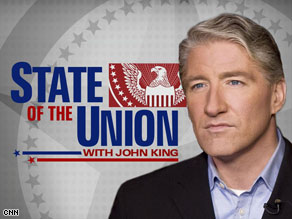 CNN's John King talks with newsmakers about the hot topics in Washington in the past week.
(CNN) -- It was another remarkably busy and newsy Sunday. And Sunday morning TV junkies saw the return of a term of Clinton-era lore: "The Full Ginsburg."
Depending on your perspective, Sunday's cover of Newsweek -- featuring a pig's snout on an ominous black background -- either reflected your anxiety over the spread of the H1N1 flu virus or was another example of media sensationalism. "Fear and the Flu" was the headline. Read Newsweek's coverage
It's been a week since the Obama administration declared a "national health emergency" over the swine flu spreading out of Mexico. To say there is unease across America is an understatement. That's where "The Full Ginsburg" comes into play.
The administration's top three "flu fighters" -- Secretary of Homeland Security Janet Napolitano; Health and Human Services head Kathleen Sebelius; and Dr. Richard Besser, acting director of the Centers for Disease Control -- fanned out to all five Sunday news shows.
There were no "remotes." They visited the studios of ABC, CBS, CNN, Fox and NBC -- a feat first pulled off by William Ginsburg, the outspoken and always quotable attorney who represented former White House intern Monica Lewinski of Clinton impeachment fame.
It was a scheduling challenge not only for the Sunday bookers, but a logistics challenge for the security details and motorcade drivers. "We're getting to know each other very well," Sebelius said in an off-camera chat on the "State of the Union" set.
At "State of the Union," we decided this was a perfect opportunity to take the story out of Washington even as we sat on a set in Washington. Viewers asked many of the questions. They came in live by telephone, on CNNpolitics.com and on our Facebook page, and their straightforward style made for an informative conversation.
A sampling of viewers' concerns about the new flu
• "Can someone please tell me what makes swine flu so different from regular influenza?"
'State of the Union'
John King reinvents Sunday talk: more time for more politics.
Sunday, 9 a.m. ET

"The difference between this H1N1 and the seasonal flu is that this is a new virus that people haven't seen before. And so, when that happens, and it happens every number of years, there's not the protection in the community and so more people are at risk of getting it." -- Dr. Richard Besser of the CDC
• "I would like to know, how long does the flu last?"
"There are really two parts to that question. How long am I going to feel bad? And how long might I make other people sick? And so, what we're saying is that if you have the flu, you stay home for seven days, and add one day on after your symptoms have gone away. That's going to ensure that you're not going to go out and share your infection with other people." -- Besser
• "I don't know what the reasoning is that we wouldn't at least temporarily close the Mexican border."
"Well, we take our advice from the scientists. And if the scientists had said that closing the border ... would be a wise thing to do to control the outbreak, we could have taken some steps. But the advice was exactly the opposite. It actually would have distracted us from the steps we did need to take to protect the American people." -- DHS Secretary Janet Napolitano
• "If you received the swine flu shot in 1976, are you at less risk than those who hadn't had the shot?"
"[That's] one of the things we're looking at very closely: Was there any protection from that shot in 1976? Is there any protection from the seasonal flu shot? And is there any protection by being elderly and having gone through many seasons of flu? That's going to play in very, very big, as we move forward with our plans around vaccines, because that may help guide some of the issues around who is most at risk at getting this in the future. We don't have an answer to that question yet, in terms of our people from 1976 who got that protected, but we're looking at that." -- Besser
• "Should people take one Tamiflu a day, just for protection or prevention of swine flu?"
"We're not recommending that for a number of reasons. One is taking medication when you don't absolutely need it always has side effects. Taking lots of medications in a community can drive resistance. And we're really pleased, right now, that this strain is not resistant." -- Besser
At the end of our conversation, we asked about a number of reports that the H1N1 flu virus is in decline.
"We don't know that yet. In fact, we expect the exact opposite. We expect to see additional transmission around this country." -- Besser
We also had the chance to visit the flu-fighting "war room" here in Washington where all the assets of government are being coordinated. Read more about the flu-fighting war room
"One can look at this as a war against disease. And we have a large battle space that is involved, our population throughout the country now. It's an international event, so it's a big battle." -- Rear Adm. Craig Vanderwagen on CNN's "State of the Union."
Vanderwagen also told us he is all but certain that the World Health Organization will, within a few days, upgrade its status to the highest level, Phase 6. But Napolitano and Sebelius stressed that would be a reflection of the global spread of the virus, not necessarily its severity. Keep up with the latest flu news at CNNhealth.com
Nation's eyes turn to the Supreme Court
"When the Supreme Court rises for the summer recess this year, I intend to retire from active service as a justice." -- Supreme Court Justice David Souter.
In a brief letter typical of his reserved New England background, Souter announced his retirement this week, giving President Obama one of the legacy choices all presidents covet. With the opportunity comes no shortage of pressure, much of it from within his own party and its allies.
To no one's surprise, there is instant evidence of a partisan divide from two influential senators: Read more about how the sides are lining up
"I want, first and foremost, somebody who believes in equal justice under law. That is, equal justice for all whether they are liberals or Democrats or Republicans or whatever. I think that is what he is going to look for. I don't want to see an ideologue of either the right or the left, and I don't' think we'll have one." -- Sen. Patrick Leahy, D-Vermont, Judiciary Committee chairman on "State of the Union."
"I think the criteria should be to follow the law. not make the law. To follow the Constitution and stay within a lot of norms. I have no illusions about him appointing a conservative like Alito or Roberts. If he will appoint a pragmatist, someone that is not going to light all of the light bulbs in America on the left, I think that would be good for the country." -- Sen. Richard Shelby, R-Alabama, on "State of the Union." Read more about what Shelby had to say
Obama has said in the past that he would look for a candidate with "heart" and "empathy" and when he accepted Souter's resignation, he laid out some other criteria:
Don't Miss
"I will seek someone who understands that justice isn't about some abstract legal theory or a footnote in a casebook. It is also about how our laws affect the daily realities of people's lives. Whether they can make a living and care for their families, whether they feel safe in their homes and welcome in their own nation." -- President Obama
This statement worried a former Senate Judiciary Committee chairman.
"It's a matter of great concern if he's saying he wants people who will take sides. He's also said that the judge has to be a person of empathy. What's that mean? Usually, that's a code word for an activist judge." -- Sen. Orrin Hatch, R-Utah, on ABC's "This Week."
A former Republican congresswoman was asked whether gender should play a role in the decision, with only one woman on the court.
"I answer as a mother of two daughters when I say yes. I know that there are very smart, very capable women out there, and I think that does send an important signal to our daughters for the future." -- Former U.S. Rep. Susan Molinari on "State of the Union." Read more about possibility of a female nominee
Republicans go for an image makeover
Another hot topic was the "rebranding" of the Republican Party. Over the weekend, Rep. Eric Cantor and former presidential candidate Mitt Romney led a group of party leaders in an informal "town hall" to announce the formation of a new initiative, the National Council for a New America, and a new Web site -- http://www.wethepeopleplan.org
"State of the Union" had an exclusive conversation with Cantor and Romney, looking back on the GOP defeats in 2006 and 2008 and looking ahead to get their sense of the road to a comeback.
"We've got to go out and again reconnect and make sure that our policy prescriptions are relevant to the challenges the people in the Northeast are facing, to the challenges that educated, affluent families are facing as well as those much more challenged in the inner cities and the rural areas of our country" -- Minority Whip Rep. Eric Cantor, R-Virginia. Read more about what Cantor had to say
"I frankly believe that much of what happened in the last election revolved around the fact that the economy fell apart at the time we were, if you will, holding the hot potato. Republicans and Democrats have been playing this game, passing the hot potato, spending money like there was no tomorrow. And the economy came crashing down while our party was holding the hot potato. And people said, hey, it's time for something else..." -- Mitt Romney. Read more about Romney's thoughts on GOP loss
Democrats gain noteworthy convert
This past week's defection of veteran Republican Sen. Arlen Specter of Pennsylvania only added to the GOP's woes. This was a decision born of Specter's survival instinct, but with the GOP already on its heels, it was unwelcome news.
"I was sorry to disappoint many people; frankly I was disappointed that the Republican Party didn't want me as their candidate. But as a matter of principle, I'm becoming much more comfortable with the Democrats' approach." -- Sen. Arlen Specter, D-Pennsylvania, on CBS' "Face the Nation."
"He was a Democrat originally, became a Republican. He is back to being a Democrat. It will help him politically, and that that's fine. Our party is a big tent party. We have folks of different perspectives; we have always been that way. We have always had different coalitions in the Republican Party; we will continue to have that." -- Mitt Romney on "State of the Union"
Not all of Specter's former GOP colleagues were so forgiving.
"You know, good luck, because that's all I can say. And I know as Republicans that we have some great candidates that we're recruiting out there, and we want to make sure that Arlen Specter is no longer in the United States Senate after the next election. We're going to work very hard to make sure that happens." -- Sen. John Ensign, R-Nevada, on "Fox News Sunday." Read more about what Ensign had to say
In remembrance -- Jack Kemp
Finally, we took a few moments to reflect on a true footsoldier in the Reagan Revolution, former U.S. Rep. Jack Kemp. He passed away this weekend after a battle with cancer. He was also Bob Dole's vice presidential running mate in 1996 and U.S. Housing Secretary in the administration of George H.W. Bush.
I first met Kemp 21 years ago, during the 1988 presidential campaign. Over the years, he was a true "happy warrior" -- always with a smile and a strong handshake.
The tributes poured in from across the Republican Party and conservative movement and from many Democrats, with President Obama among them.
We benefited from the perspective of one of Kemp's closest friends, CNN Contributor Bill Bennett, who founded the Empower America Political Action Committee with Kemp in 1993:
"Jack loved everybody. He was the quarterback in the huddle, bringing everybody together. But absolutely, he led this party into the inner city and said freedom is for everybody; opportunity is for everybody; enterprise is for everybody. ... He was a pro-freedom guy. He was an enthusiast. He had the heart of a lion. And his voice will be very much missed." -- Bill Bennett. Read more about Bennett and Kemp

E-mail to a friend

All About Swine Flu • David Souter • Republican Party • Arlen Specter • Jack Kemp