WASHINGTON (CNN) -- House Democrats told the president Monday he won't be getting money to close the military detention facility at Guantanamo Bay, Cuba, until he has a "concrete program" for shutting it down and moving its prisoners.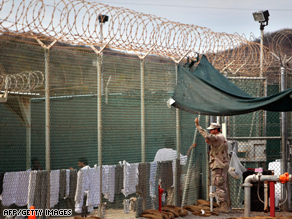 A guard talks to a detainee at Guantanamo earlier this year.
The $80 million will be dropped from President Obama's supplemental request for the Iraq and Afghanistan wars, House Appropriations Committee Chairman Rep. David Obey told reporters.
"So far as we can tell, there is yet no concrete program for that," said Obey, D-Wisconsin. "And while I don't mind defending a concrete program, I'm not much interested in wasting my energy defending a theoretical program. So when they have a plan, they're welcome to come back and talk to us about it."
The administration requested $50 million for the Defense Department and $30 million for the Justice Department to close the prison, Democratic aides said.
Republicans have been pounding Obama and the Democrats over the proposed closure, saying that closing the facility could push detainees into facilities in the United States, making the country less safe.
Sen. John McCain, Obama's Republican rival for the presidency last year, supports closing the facility, and argued for moving the prisoners to the military prison at Fort Leavenworth in Kansas.
A Democratic leadership aide insisted there is "no distance" between Democrats and the White House on closing Guantanamo. Anticipating the loss of some Democratic votes on the supplemental request, Democratic leaders hoped to gain some Republican support by removing the Guantanamo funding, the aide said.
Brendan Daly, spokesman for House Speaker Nancy Pelosi, said the move does not change plans to close the prison.
"We will work with President Obama to achieve our goal of closing Guantanamo Bay," he said.
Last week, Defense Secretary Robert Gates told reporters the Justice Department was reviewing each of the detainees at Guantanamo to determine what to do with them.
"Those discussions have just gotten started," he said. "There clearly will be a specific plan that comes out of this, but what we've had to await is the determination, roughly speaking, of about how big a group of people we will be talking about."
Gates said the $50 million for his department was intended "as a hedge that would allow us to get started if some construction is needed to be able to accommodate those detainees."
The Justice Department portion, he said, is to pay for "the process of going through these determinations."
About 240 prisoners remain at the detention facility.

The $94.2 billion supplemental request will be the last, because Obama has put the wars on the budget going forward. Democrats added to Obama's requests for addressing the H1N1 flu virus as well as funding to fight the war in Afghanistan and assist Pakistan's government.
Obey said he was "very doubtful" that Obama's policies in those two countries would succeed, "but there's a consensus in the Congress to try it."
Some anti-war Democrats were pushing to include benchmarks or some strings for money for Afghanistan and Pakistan, but the bill does not put conditions on any of the money, he said. Instead it requires that the president report to Congress in a year and address five "standards of performance" outlined in the bill.
"I would hope it would be a fish or cut bait report," Obey said.
Pressed on whether Congress would cut off money for operations in the region if signs of progress aren't demonstrated, the Wisconsin Democrat said it is up to individual members of Congress, but added, "If it becomes a fool's errand, I would hope so."
Democrats also added $400 million to the administration's request for Mexico for the drug war and surveillance helicopters. The House Appropriations committee will vote on the bill Thursday, and the House is expected to vote on it next week.
E-mail to a friend

CNN's Dana Bash and Deirdre Walsh contributed to this report.
All About Guantanamo Bay • Barack Obama • Robert Gates • U.S. Department of Justice