By Mary Grace Lucas
CNN





WASHINGTON (CNN) -- First lady Michelle Obama turned her eyes to health and education during a trip Monday to a District of Columbia school.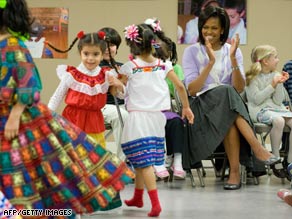 Michelle Obama encourages the performers at the Latin American Montessori Bilingual school Monday.
Celebrating Cinco de Mayo one day early, she spoke about education and told the crowd to send "good thoughts" to those in Mexico who have been sickened with swine flu in recent weeks.
"At the time that we're celebrating Mexican culture and heritage, it is so important for us to think about some of the challenges that the folks in Mexico are facing right now," she told the crowd of about 200 students, faculty and guests from two public charter schools, Latin American Montessori Bilingual and Next Step.
She also highlighted the D.C. Scholars program, which grants White House internships to students from Washington-area public schools and encourages them to take advantage of their proximity to the nation's politics by engaging in public service.
Obama took several questions from the students, joking, "Make them very easy questions, because it's very nerve-wracking up here."
The students responded in kind, asking what her mother's name was, whether she liked Mexican food, what her first moments in the White House felt like and what has surprised her about being first lady.
"I didn't know that I would have this much fun doing what I'm doing," Obama told the them. "I decided early in my career that I wanted to make my career be something that helped others. And being the first lady is like the icing on the cake of being able to help others."
During the program, students from the two schools performed for the first lady, who clapped and sang along from her chair. She was seated next to the Montessori school's executive director, Diane Cottman, and one student from each of the school's six classes.
Older students performed several couples' folk dance routines while the younger students danced la Raspa, a Mexican folk dance. They finished by singing "Somos los Niños de LAMB," a song about children at the school creating peace.
E-mail to a friend

All About Michelle Obama