WASHINGTON (CNN) -- Former congressman and Republican vice presidential candidate Jack Kemp died Saturday at age 73 after a battle with cancer, his family announced.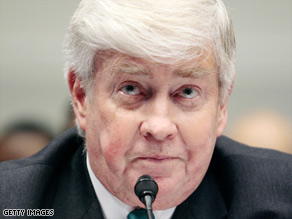 Jack Kemp, a former congressman from New York, was the GOP's vice presidential candidate in 1996.
A onetime professional football player, Kemp served nine terms in Congress as a representative from New York and was former Sen. Bob Dole's running mate in 1996. He was a leading advocate of "supply-side" tax cuts, advancing the argument that cutting taxes would boost economic growth and yield more revenue for the federal government.
"The only way to oppose a bad idea is to replace it with a good idea, and I like to think that I have spent my life trying to promote good ideas," he told CNN in a 1996 interview.
Kemp "passed peacefully into the presence of the Lord" Sunday evening, a family statement said. He disclosed his illness in January. Watch
"During the treatment of his cancer, Jack expressed his gratitude for the thoughts and prayers of so many friends, a gratitude which the Kemp family shares," the family said.

Watch how Jack Kemp made transition from football to politics »
Kemp quarterbacked the Buffalo Bills to back-to-back American Football League championships in 1964 and 1965, before the merger that created the modern NFL. When he retired in 1970 after 13 seasons, the California native ran for Congress and represented the Buffalo area for 18 years in the House of Representatives.

View photos of Jack Kemp's life »
Don't Miss
"He championed free-market principles that improved the lives of millions of Americans and helped unleash an entrepreneurial spirit that all of us still benefit from today," Senate Minority Leader Mitch McConnell, R-Kentucky, said in a statement issued late Saturday.
The 1981 tax cuts signed into law by Ronald Reagan, which cut marginal tax rates from 70 percent to 50 percent, bore Kemp's name as a co-sponsor. Critics mocked the policy as "trickle-down" economics and pointed to the decade's growing budget deficits as evidence that supply-side theories didn't work, but it has been GOP orthodoxy ever since.

Kemp mounted an unsuccessful presidential bid in 1988, losing the Republican primaries to George H.W. Bush. But once in office, Bush made Kemp his secretary of housing and urban development -- a post Kemp used to promote what he called an "empowerment" agenda of tax breaks for urban businesses and expanded home ownership. iReport.com: Share your memories of Kemp
Unlike many of the other conservatives of his era, Kemp actively courted African-American support. In 1992, he told CNN's "Larry King Live" that the GOP "could be a Lincoln party in terms of attracting black and brown and men and women of color and low-income status and immigrant status who want a shot at the American dream for their children."
E-mail to a friend

CNN Political Director Sam Feist contributed to this report.
All About George H.W. Bush • Bob Dole • Ronald Reagan • Jack Kemp