By Jonathan Mann
CNN





(CNN) -- Don't call him lucky. Barack Obama assumed the presidency of the United States just in time to be challenged by a painful recession, African pirates and a disease spread by pigs. But he can at least take comfort in some lucky numbers.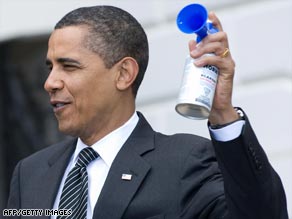 Obama has been self-assured, energetic and ambitious in his first 100 days in office
100 -- Obama marked a traditional milestone for new chief executives this week: the first 100 days since he took office. Whether or not you agree with his policies, Obama's been self-assured, energetic and ambitious. He's spending boldly to help the economy and breaking with Bush administration policy on issues ranging from Guantanamo Bay to global warming. Whatever else happens, historians will probably credit him with a decisive debut.
75 -- Obama didn't have an especially easy time convincing Americans he was the right man to be president. He won with about 53 percent of the vote. But this week's CNN/Opinion Research Poll found that 63 percent of Americans support him and fully 75 percent say he has the personal qualities a president needs. Americans don't all agree with him, but a solid number admire him nonetheless.
60 -- Despite his support from voters, the Congress has been a problem for Obama. A governing party needs 60 of the Senate's 100 seats to be sure it can pass the legislation it wants. The Democrats won 58 and expect to capture a 59th because of one close Senate election that will be decided by the courts. This week, Republican Arlen Specter switched parties. The court's ruling remains to be seen, but Obama stands to get his 60.
0 -- Obama is the undisputed leader of the United States and its Democratic Party. Who really speaks for the Republicans? After presidential candidate John McCain lost the election, he lost the right to speak for the party.
For the time being, the Republicans have no national figure who commands anywhere near the public support or media attention Obama does. Right now, President Obama wins any contest of leadership with the Republicans by a 1-0 shutout.
Maybe we should call him lucky, after all.
E-mail to a friend