By Dana Bash
CNN Senior Congressional Correspondent






WASHINGTON (CNN) -- Few issues rally conservatives as much as a Supreme Court nomination -- and activists are wasting no time gearing up for a battle.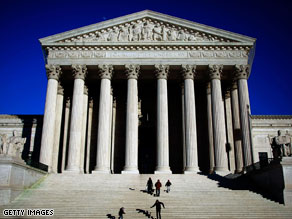 The GOP is gearing up for a fight over President Obama's Supreme Court justice choice.
Conservative groups worked into the night Thursday -- after news broke that Justice David Souter would announce his retirement -- to arrange a conference call early Friday morning to talk strategy with representatives of more than 60 groups.
Leaders on the call, such as Wendy Long of the Judicial Confirmation Network, told colleagues that one of their first challenges would be convincing activists there is a fight to be had.
"One thing to keep in mind is that the left and media will say this doesn't really matter -- Obama will just replace a liberal with a liberal," Long said. "It's a conservative court. We need to push back against that immediately."

Watch why the GOP will rally around justice battle »
Curt Levy, also of the Judicial Confirmation Network, argued to the nearly 200 activists on the conference call that this can "be a winning issue" for conservatives if they focus on what he called the "right issues," such as same-sex marriage, the death penalty and the Second Amendment -- issues that can split Democrats.
"If [President Obama] was to nominate somebody who was anti-death penalty, pro-gay marriage, you know -- took a very extreme view on the separation of church and state, etc., or against any restriction on partial-birth abortion ... I think this could really be a 70-30 type issue for the Republican Party." said Levy, meaning it would have 70 percent support from Republicans.

Watch Obama discuss how he will make his choice »
Conservative activists also made it clear that they're concerned about whether Republican senators have the stomach for this fight, since they know going in that Democrats have a nearly filibuster-proof majority.
A Supreme Court justice nominee must be confirmed by the U.S. Senate before taking the bench.
"We've really got to make it clear that we have certain expectations for Republican senators," Levy said, "Including the fact that they study the nominee and not run to the podium to endorse the nominee, whoever it is."
Another member of the Judicial Confirmation Network, Greg Marks, said he has the same concerns.
"We need to really be focused on putting wind in the sails of these Republican senators at this stage of the battle," he said.
The conservative coalition, which formed to support President George W. Bush's Supreme Court nominees, is already targeting three potential Obama picks: Elena Kagan, Sonia Sotomayor and Diane Wood.
An e-mail with talking points for conservatives describes Kagan, who serves as the solicitor general, as someone lacking judicial experience who is "disturbingly out of the mainstream."

Watch bloggers weigh in on Souter's announcement »
The conservatives argue Sotomayor, now an appellate judge, has a "hard-left record" and believes that judges should consider experiences of women and people of color in their decision making. They also described her as a "bully" who "abuses lawyers."

Conservatives are arguing that Wood, also a circuit court judge, incorporates her personal views into her decisions.
"Judge Wood's judicial views have on occasion been far outside mainstream legal thought and appear driven by her personal policy views. In NOW v. Scheidler, she wrote an opinion applying RICO -- a statute designed for mob prosecutions -- to prevent pro-life activists from engaging in protests. The Supreme Court reversed, with Justices [Ruth Bader] Ginsburg's and [Stephen] Breyer's concurrence," read the conservative talking points.
E-mail to a friend

All About U.S. Supreme Court • Republican Party