WASHINGTON (CNN) -- Arlen Specter, the longtime Republican senator who switched parties Tuesday, admitted Wednesday the move was driven partly by a desire to keep his seat.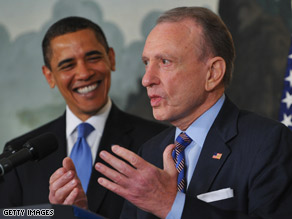 Sen. Arlen Specter speaks Wednesday as President Obama looks on in the White House
The senator, who has represented Pennsylvania in the upper chamber since 1980, said he was "anxious" to stay in the Senate -- and he did not want to face a Republican primary in order to keep his seat next year.
"I was unwilling to subject my 29-year record in the U.S. Senate to the Pennsylvania Republican primary electorate," he said. "But I am pleased to run in the primary on the Democratic ticket and am ready, willing and anxious to take on all comers in the general election."
Polls suggested Specter would face a stiff primary challenge from Rep. Pat Toomey, who falls to his right on the political spectrum. Toomey nearly defeated Specter in the Pennsylvania GOP Senate primary in 2004.
Specter vowed not to be an "automatic 60th" Democratic vote Wednesday.
President Obama said he was "thrilled" to have the Pennsylvania senator join the Democrats.

Watch Obama welcome Specter to the Democratic Party »
Obama, who served four years in the Senate with Specter, consistently referred to his former colleague as "Arlen," calling him "one tough hombre."
Specter, appearing with the president and Vice President Joe Biden in a news conference, said he was "very comfortable" with Obama's administration.

Watch Specter speak after meeting with Obama »
Specter's move puts the Democrats one shy of a rare filibuster-proof Senate majority of 60 seats. Senate Democrats can now reach the 60-seat mark if Al Franken holds his current lead in the disputed Minnesota Senate race.
Don't Miss
"As the Republican Party has moved farther and farther to the right, I have found myself increasingly at odds with the Republican philosophy and more in line with the philosophy of the Democratic Party," Specter said in announcing his decision Tuesday.
He said he made the final decision to switch parties and end a 44-year affiliation with the GOP after consulting with his campaign advisers and family over the weekend.
White House press secretary Robert Gibbs confirmed Tuesday that the president intends to actively campaign for Specter's re-election if asked to do so.
Jubilant Senate Democrats also welcomed the news.
"Sen. Specter and I have had a long dialogue about his place in an evolving Republican party," Senate Majority Leader Harry Reid, D-Nevada, said in a written statement.
"We have not always agreed on every issue, but [he] has shown a willingness to work in a bipartisan manner, put people over party, and do what is right for Pennsylvanians and all Americans."
Reid called Specter a "man of honor and integrity" who would be welcome in the Democratic caucus.

Watch Specter talk about his switch »
One key Senate Democrat, however, warned that reaching the 60-vote mark would not automatically ensure a Democratic victory on every major issue.
"It's great news," North Dakota Sen. Kent Conrad said. But it means "a lot less" than some people think.
"The Democratic caucus is not homogenous. [There is a] lot of disagreement in the Democratic caucus, so this idea that it's some great watershed event ... I don't think so."
Neither party has had a filibuster-proof majority in the U.S. Senate since the 95th Congress, from 1977 to 1979. Democrats controlled 62 seats during the first two years of the Carter presidency.
Republican National Committee Chairman Michael Steele ripped Specter, calling him a Republican in name only who was out of step with the rest of the party because of his "left-wing voting record."
"Some in the Republican Party are happy about this. I am not," Steele said in a written statement. "Let's be honest -- Sen. Specter didn't leave the GOP based on principles of any kind. He left to further his personal political interests because he knew that he was going to lose a Republican primary due to his left-wing voting record."
Steele said that Republicans "look forward to beating Sen. Specter in 2010, assuming the Democrats don't do it first."

Watch as Steele comments on the switch »
A significant number of leading Republicans grew angry with Specter in recent weeks over his vote in support of Obama's $787 billion stimulus plan.
"When the stimulus package came up for a vote, I felt that it was indispensable to vote 'aye' in order to avoid the possibility of a 1929-type depression," Specter said Tuesday. He said that the vote highlighted a "schism" and an "irreconcilable conflict" between himself and the bulk of the GOP.
Specter, one of only three GOP senators to vote for the measure, has been part of a dwindling group of Republican moderates from the northeastern part of the country.
The 79-year-old Kansas native and former Philadelphia district attorney has been a leading Republican on the Senate Judiciary Committee for much of the past two decades, serving as its chairman from 2005 to 2007.
Specter has been a defender of abortion rights in an overwhelmingly anti-abortion party and opposed President Ronald Reagan's controversial nomination of Robert Bork to a Supreme Court seat in 1987. But he drew criticism from many women for his aggressive questioning of law professor Anita Hill, who accused Supreme Court nominee Clarence Thomas of sexual harassment during Thomas' 1991 confirmation hearings.

Specter served on the Warren Commission that investigated the 1963 assassination of President John F. Kennedy, helping develop the so-called single-bullet theory that Kennedy and Texas Gov. John Connally were hit by the same slug.
He has survived bouts with cancer three times, most recently undergoing chemotherapy for Hodgkin's disease in 2005.
E-mail to a friend

CNN's Alan Silverleib and Deirdre Walsh contributed to this report.
All About Arlen Specter • U.S. Senate • Al Franken