By Paul Steinhauser
CNN Deputy Political Director






WASHINGTON (CNN) -- Americans are becoming slightly more optimistic about the nation's economy, a CNN/Opinion Research Corp. survey showed Wednesday, but the glow surrounding President Obama is wearing off for some as the president marks his first 100 days in office.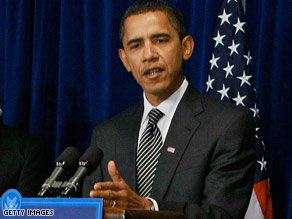 President Obama's rating for "right priorities" and focus is significantly higher than the previous two presidents'.
Thirty-seven percent of the people questioned in the poll say the current economic conditions in the country are very poor -- a figure that's down from 48 percent last month and 66 percent in December. Seventeen percent now say economic conditions are good, up 6 points from last month.
Fifty-five percent say the economy is the most important issue facing the country today, down 8 points from March.
"When the economy is bad, it is the top issue on the public's mind," said CNN Polling Director Keating Holland. "So when the number who say the economy is the No.1 problem facing the country goes down, it may be a leading indicator that things are looking up a bit."

Watch Wall Street rate Obama »
The survey also suggests that nearly two in three Americans think Obama has the right priorities and has paid enough attention to the country's most important problems.
The 63 percent who feel that way is 17 points higher than those who felt that way about George W. Bush's performance 100 days into his presidency in 2001 and 26 points higher than the numbers for Bill Clinton in 1993.
Sixty-eight percent also say Obama is doing a good job keeping important promises he made during his campaign for the White House, with three in 10 saying he's doing a poor job. Only one in three thought Clinton did a good job keeping his promises.
"On almost every measure, Obama is having a much better first hundred days than Bill Clinton, the last Democrat in the White House. Clinton was seen as unfocused and unable to keep his promises. Obama isn't getting criticized on either of those measures," added Holland.
The poll suggests that 19 percent of those questioned are personally thrilled that Obama is president. That's down 9 points from January, when Obama was inaugurated. Forty-two percent are happy with Obama as president, 20 percent unhappy, 7 percent depressed and 11 percent don't care.
"For about one in 10 Americans, the thrill is gone," said Holland.

Sixty-nine percent of the respondents have a favorable opinion of Obama -- 4 points lower than the 73 percent who have a favorable opinion of First Lady Michelle Obama. Sixty-four percent have a favorable view of Secretary of State Hillary Clinton and 51 percent have a favorable view of Vice President Joe Biden.
The CNN/Opinion Research Corp. poll was conducted Thursday through Sunday, with 2,019 adult Americans questioned by telephone. The survey's sampling error is plus or minus 2 percentage points.
E-mail to a friend

All About Barack Obama • U.S. National Economy