From Rob Yoon
CNN




WASHINGTON (CNN) -- Pennsylvania Sen. Arlen Specter announced Tuesday he plans to switch from the Republican Party to join the Democrats.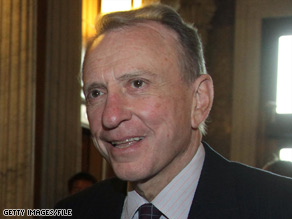 Sen. Arlen Specter announced Tuesday he is switching to the Democratic Party.
With the defection, Specter becomes the 13th senator to switch parties since the direct election of U.S. senators began in 1913.
Recent senators who have switched parties are:
Richard Shelby of Alabama
Democrat, 1987-1994; Republican, 1994-present
Shelby left the Democratic Party to join the Republicans on November 9, 1994, just after 1994 midterm elections that gave Republicans control of both chambers of Congress.
Ben Nighthorse Campbell of Colorado
Democrat, 1993-1995; Republican, 1995-2005
Campbell left the Democratic Party March 3, 1995, to join the Republicans.
Joe Lieberman of Connecticut
Democrat, 1989-2006; Independent, 2006-present
Lieberman lost his state's Democratic primary in August 2006, but won re-election in November as an Independent, though he had not officially changed his voter registration. In the Senate, he continues to caucus with the Democrats.
Bob Smith of New Hampshire
Don't Miss
Republican, 1990-July 13, 1999; Independent, July 13, 1999-November 1, 1999; Republican, November 1999-2003
Smith left the Republican Party on July 13, 1999, to become an Independent. On November 1, 1999, he switched back to the Republican Party, noting that he had never officially switched parties because his voter registration in New Hampshire remained unchanged.
Jim Jeffords of Vermont
Republican, 1989-2001; Independent, 2001-2007
Jeffords announced on May 24, 2001, that he would leave the Republican Party on June 6, 2001, to become an Independent who would caucus with Democrats. His switch gave Democrats control of the Senate, though Republicans would reclaim the chamber after the 2002 midterm elections.
E-mail to a friend