By Paul Steinhauser
CNN Deputy Political Director






WASHINGTON (CNN) -- A new national poll indicates that President Obama's popularity is not rubbing off on fellow Democrats.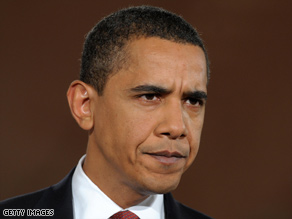 A poll puts President Obama's approval rating at 63%, while one in three disapprove of the job he's doing.
But the CNN/Opinion Research Corp. survey, released on the eve of the president's 100th day in office, does suggest that Obama's party holds a strong advantage over Republicans.
The poll's release also came on the day that Sen. Arlen Specter of Pennsylvania, a longtime Republican, announced his switch to the Democratic Party.
Fifty-one percent of people questioned in the survey said they have a favorable opinion of Democrats. While that's down 7 points from February, it's still 12 points higher than the 39 percent who said they have a positive opinion of the Republican Party. Fifty-five percent hold an unfavorable opinion about Republicans.
Approval for Obama himself was significantly higher, at 63 percent, while disapproval was expressed by only one in three. Those numbers were released Monday.

Watch more on Obama's approval ratings »
"Now that the Democrats have started to make the tough choices that a majority party always has to make, they are becoming less popular," said Keating Holland, CNN polling director. "But the GOP has been unable to capitalize on that."
Bill Schneider, CNN senior political analyst, said that "moderate voters hold a strongly favorable opinion of the Democratic Party under President Obama. Their opinion of the Republican Party? Not good. Moderate voters are trending Democratic. Just like Sen. Arlen Specter."
The poll also suggests a drop of support for the top Democrats in Congress. Forty-three percent of those questioned approve of how members of the Democratic congressional leadership are handling their duties. That's down 17 points from February.
But the survey also indicates that only 31 percent approve of how Republican leaders in Congress are handling their jobs, down 13 percent from February.

"February was a high point for both parties," Holland said. "The first few weeks of a new administration are typically an era of good feelings. Congress was about to take its first major action to confront the worsening economy, and straight-line party voting had yet to occur. It's not surprising that ratings for both parties are down since that point."
The CNN/Opinion Research Corp. poll was conducted Thursday through Sunday, with 2,019 adult Americans questioned by telephone. The survey's sampling error is plus or minus 2 percentage points.
E-mail to a friend

All About Barack Obama • Democratic Party • Republican Party