By Jared Polis
Special to CNN






Editor's note: Rep. Jared Polis, a Democrat, represents Colorado's 2nd District in Congress and is appearing in CNN.com's "Freshman Year" series along with Rep. Jason Chaffetz, a Republican from Utah.
(CNN) -- April recess is often called Congress' spring break. Most members go home, visit their families, get some much-needed rest and escape from the hustle and bustle of Capitol Hill.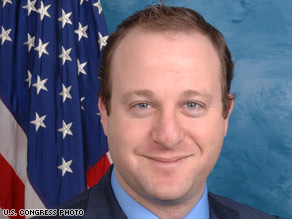 Rep. Jared Polis says he spent Congress' "spring break" on a trip to visit troops in Iraq and Afghanistan.
I spent much of my recess in various undisclosed locations somewhere in the Middle East, as part of a Congressional Delegation, or CODEL, to Kuwait, Dubai, the United Arab Emirates, Iraq and Afghanistan.
When I first visited Iraq in November 2007, I flew as a private citizen on commercial flights. This time we flew on a commercial flight from Dulles to Kuwait and military aircraft within Iraq and Afghanistan. We arrived in Kuwait around 5:00 p.m. Sunday night, had a buffet dinner and then went to sleep.
By 5:30 am the next morning we were on board a 1967 military C-130, wearing flak jackets and helmets while watching the Iraqi landscape beneath us go by.
The security situation has improved tremendously in Iraq. Two years ago, we drove from the airport to the green zone on the "highway of death" that, they assured me, had just been cleared of land mines. This time, we hopped in a helicopter and 15 minutes later we landed in the green zone.
Everywhere you look there are cars on the road, the power is on (most of the time), and people are going about their business. It is a far cry from the extremely tense world of two years ago, and I felt much more relaxed.
Don't Miss
There was also a definite change in mind-set among the military from when I was last here. I couldn't count the number of sentences that began with "When we leave in 2011..." -- a sure sign of support for our commitment to withdrawal that, thanks to President Obama, is now inserted in the military's political culture. To be sure, questions remain, such as, what are we to do with our air bases?
Due to sand storms and inclement weather, we were diverted from Mosul to Balad Air Force Base, located at the confluence of the Tigris and Euphrates rivers and home to the descendants of the famed Tuskegee Airmen.
At Balad, we visited the air command center, saw a Predator (unmanned drone), drove MRAPs (Mine Resistant Ambush Protected vehicles), visited their hospital, and met with their chaplain who happens to be one of the few rabbis in the Air Force. We dined in their mess hall and drank purified water from the Tigris that they bottle at the base.
Prior to leaving for Iraq, I received allegations of egregious human rights violations being carried out against gay, lesbian, bi-sexual, and transgender (GLBT) Iraqis. Influential clerics have allegedly urged that they be sought out and killed. The United States should not tolerate human rights violations of any kind, especially by a government that Americans spend billions of taxpayer dollars each year supporting.
While in Baghdad, I met with the Iraqi Charge d'Affaires and members of the Iraqi Parliament's Human-Rights Committee and delivered a letter outlining the allegations I received and urging their immediate investigation.
The true test is whether the Iraqi government will demonstrate that it is serious about protecting the human rights of all Iraqis, and what role our own State Department can play in helping to protect this minority in Iraq.
After Iraq, we visited two cities in Afghanistan -- Kabul the capital and Kandahar in the south near the Pakistani border. What a mess. No one can make sense of Afghanistan because it doesn't really make sense.
No one has any idea how many people live in Afghanistan. Intelligence estimates range from 22 to 32 million people. There has been no census since 1959. The Ministry of Education has no idea how many kids are in schools. Most likely, more than 75 percent of the population is under 30 years old and has only known civil war their entire lives.
We hardly glimpsed the real Afghanistan. Through the bullet-proof windows of our van, we saw a few children playing, women in burkhas, and men going about their daily business as we drove from the airport to the Embassy. I commend Obama for articulating a strategy that is both concise and (in my opinion) correct.
The reason that we have "chosen" Afghanistan is that parts of the country provide sanctuary to those who perpetrated 9/11 and still scheme to do our nation harm. With this new clear mission, however, I fear that our current tactics are not mapped correctly to our strategy.
Building wells, schools, and promoting economic development are all nice things, but if the goal is merely to "do good and help people" we could probably bring Africa or Latin America ten times as far along with the same resources as Afghanistan. The real battle in Afghanistan and Pakistan is against al Qaeda and we should gauge our actions with that in mind.
Our best estimates show there to be no more than 5,000 al Qaeda fighters in Afghanistan and Pakistan. Do we really need to occupy an entire country of around 30 million people to root out 5,000 enemies?
Unlike Iraq, there is no definitive time frame for our operations in Afghanistan to succeed. The general consensus is that "our mission" will take at least 10 years and but probably more like a generation. Our international coalition is trying to advance Afghanistan from feudalism, through the industrial revolution, and into the information age -- in just one generation. That's a tough challenge even if you're not battling terrorists at the same time.
The best part of the CODEL activities, both in Iraq and Afghanistan, were our chances to meet with soldiers from our districts and home states. We speak the same language as these kids, know the same people and share the same culture. In Baghdad I dined with five troops from Colorado, all 19-30 years old and on their first or second tours in Iraq. Our two-hour discussion ranged from the daily challenges they face in their jobs to the veteran services they (hope) they will receive when they retire.
I am happy to report that the troops are well fed, lodging conditions are decent, and safety is pretty good. In fact, one of their biggest complaints is that the military is taking too many precautions about their safety. In Kabul I spoke with a soldier from Colorado who trains Afghani police officers.
This young man was invited to dinner by his mentee to meet his wife and kids. The military prohibits this kind of activity for security reasons, even though it would help build lasting bonds.
I sympathize with the soldier. I wish that we had more freedom on our trip to escape our own protection and interact with real Iraqis and Afghanis. I never smelled the scents or sampled the food of shops we passed. I would have gladly taken on a reasonable level of risk to make the overall experience more useful and informative, but was prohibited from doing so.
Nevertheless, going on this trip was really important to help me understand the situation in Iraq and Afghanistan. As we cast votes in Congress, I have to make decisions about spending hundreds of billions of taxpayer money on these wars, and more importantly decisions regarding placing young Americans in harm's way. I owe it to every parent who has a child over there to learn everything I can before I cast votes on these matters.
The opinions expressed in this commentary are solely those of Jared Polis.
E-mail to a friend

All About Iraq War • Afghanistan War • Al Qaeda