By Dana Bash
CNN Senior Congressional Correspondent





Editor's note: How would you rate the new Congress in President Obama's first 100 days? You'll get a chance to make your opinion known on at 7 p.m. ET Wednesday on the CNN National Report Card.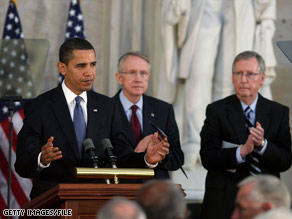 President Obama, Senate Majority Leader Harry Reid and Senate Minority Leader Mitch McConnell earlier this year.
WASHINGTON (CNN) -- There's little debate that Democrats who run Congress mark President Obama's 100-day milestone with some significant victories.
First and foremost, they passed the president's $787 billion measure intended to stimulate the economy with warp speed, meeting his February deadline.
Congressional Democrats also made good on promises to push through several priorities that President Bush had refused to sign into law.
They finally approved last year's bill to fund the government, with significant increases in spending for things such as education, health care and transportation.
And Democrats passed long stalled legislation for children's health insurance -- the State Children's Health Insurance Program, known as S-CHIP -- as well as the Lilly Ledbetter Fair Pay Act mandating equal pay for women in the workplace.
National Report Card
You elected them, now grade them with CNN! Rate the president, Congress and state leaders.
Wednesday, 7 p.m. ET

But the slew of legislative achievements during Obama's first 100 days have come at the cost of bipartisanship.
The president's stimulus package passed with three Republican votes.
Obama's budget blueprint passed the House of Representatives and the Senate without a single GOP vote. And the $410 billion bill to fund the government turned into a partisan clash.
Senate Majority Leader Harry Reid, D-Nevada, opened the Senate in January declaring that "when we allow ourselves to retreat into the tired, well-worn trenches of partisanship, we diminish our ability to accomplish real change."

Watch Reid in January predict Congress will work together »
Now, that feels like ancient history.
So does Republican Senate Minority Leader Mitch McConnell's more hopeful tone in January.
"If we see sensible, bipartisan proposals, Republicans will choose bipartisan solutions over partisan failures every time," said McConnell of Kentucky.

Watch McConnell in January say that Republicans will cooperate, not compromise »
In the blame game over the breakdown of bipartisanship, Republicans said Democrats shut them out and never really considered GOP ideas. Democrats accused Republicans of making a political calculation to be the party of "no."
But the real reason for the partisan divide may be genuine philosophical differences, especially when it comes the No. 1 issue during the president's first 100 days -- the economy.
Republicans working to recover from their drubbing during the last two elections said they are trying to return to their small government roots. That means opposing Obama's economic prescriptions.
"We've been throwing trillions of dollars around like it was Monopoly money," McConnell said in the heat of the spending bill debate.

Watch Reid and McConnell argue over the spending bill »
"A way of looking at it is we have spent more in the first 23 or 24 days of this administration, in other words, charged more, than it cost post-9/11 for the war Afghanistan, the war in Iraq and the response to Katrina already."
Yet most Democrats fundamentally believe government spending is the only way to jump-start the economy.
"We're going to have to spend some money to get out of this hole. The government's the only body that has any money," Reid said.
The reality is that bipartisanship on big, controversial issues is usually born out of necessity -- the ruling party historically reaches across the aisle only when it needs votes to prevail.
The Democrats' wide majority has meant that, for the most part, they haven't had to compromise.
It's not clear whether things will be any different over the next 100 days.
Democrats last week, at the behest of Obama's team, decided to use a rule that ultimately will prevent Republicans from waging a filibuster against the overhaul of health care. At the end of the day, if they can hold their own members in line, Democrats won't have to make concessions to Republicans to pass health care legislation.
Perhaps House Speaker Nancy Pelosi, D-California, was the most honest in her early assessment of the new Democratic-dominated Washington dynamic.

"We had an election which was about our differing views of the direction our country was going in," Pelosi said at a press conference a week after Obama's inauguration. "The American people agreed with us."
Whether the American people continue to agree with Democrats won't be tested until the 2010 elections. Given their significant majorities, it's likely that Democrats will build up a significant legislative resume for voters to judge -- with or without the bipartisanship that eluded Congress' first 100 days.
E-mail to a friend

All About Barack Obama • U.S. Congress