(CNN) -- Defeating extremists and stabilizing Afghanistan and Pakistan will require a "sustained, substantial commitment," Gen. David Petraeus, the chief of U.S. Central Command, said Friday.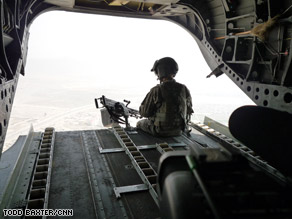 Troops from the United States fly over Kabul, the capital of Afghanistan.
Afghanistan and Pakistan contain "the most pressing transnational extremist threat in the world," he told a House appropriations subcommittee, while expressing confidence that President Obama's strategy constitutes the type of commitment that is needed.
Obama last month announced a new plan for the region, calling for more U.S. troops, greater economic assistance, improved Afghan troop training and added civilian expertise.
Petraeus said Friday that although more military forces are clearly necessary, "they will not by themselves, be sufficient to achieve our objective."
"It is equally important that the civilian requirements for Afghanistan and Pakistan be fully met. To that end, it is essential that the respective civilian elements be provided the resources necessary to implement this strategy," he said, urging Congress to fully fund the State Department, the United States Agency for International Development and the U.S. Interagency Civilian Response Corps.
Building the Afghan security forces will be critical to long-term success, just as it was in Iraq, he said.
Asked if helping Afghanistan become self-sufficient and building up its security forces would move more quickly than it has in Iraq, Petraeus said Afghanistan poses some unique challenges.
"In many respects, Afghanistan represents a more difficult problem set," he said. "It does not have a number of the blessings that Iraq has, in terms of the oil, gas, land of two rivers, the human capital that Iraq built up over the years, the muscle memory of a strong government, albeit one that was corrupted over time."
Afghanistan is landlocked, rural and has a high illiteracy rate, he said.
"These kinds of difficulties make Afghanistan very, very hard. We have seen that and we will continue to see that. That's why, up front, I've said this is going to take sustained, substantial commitment."
Obama has called for the deployment of 21,000 extra troops to Afghanistan.
Petraeus said Friday that, "as was the case in Iraq, additional forces will only be of value if they are employed properly."
"The Afghan people do not take kindly to conquerors," he said. "[Additional forces] cannot be seen to be there as invaders or conquerors. They have to be there to be seen as helping to secure to serve the people, to be partners."
Pakistani leaders also must recognize that the most pressing threat to their country is posed by internal extremists and groups such as the Taliban, he said.
Petraeus said his team needs funds to be able to focus on training and equipping forces to conduct counter-insurgency operations.
Petraeus said he has seen "substantial progress" in Iraq as forces move out of Iraq and into Afghanistan.
But, "it is going to take a considerable time for Iraq to eliminate all of the remaining elements," he said.
"This is why we say the progress continues to be fragile and reversible and it is why we say it requires continued vigilance and continued effort," he said.
Obama plans to withdraw most U.S. troops from Iraq by the end of August 2010. Up to 50,000 troops would remain in Iraq and would withdraw gradually until all U.S. forces are out of Iraq by December 31, 2011 -- the deadline set under an agreement the Bush administration signed with the Iraqi government last year.
E-mail to a friend

CNN's Kristi Keck contributed to this report.
All About Pakistan • Afghanistan • David Petraeus