By Ted Barrett and Deirdre Walsh
CNN Congressional Producers





WASHINGTON (CNN) -- House and Senate Democratic negotiators reached a tentative deal Friday to use a fast-track budget process to move President Obama's health care overhaul, according to Democratic leadership sources in both chambers.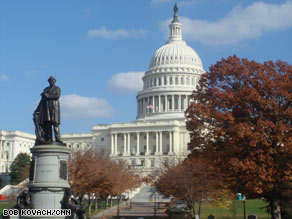 The House and Senate may use "budget reconciliation" to pass health care reform.
Use of the special process -- known as budget reconciliation -- signals that major health reform is likely to pass this year because, under the process, Republicans won't be able to filibuster the legislation.
Democrats, who control 58 seats in the Senate, would be able to pass it with a simple majority vote instead of the 60 needed to overcome a filibuster.
Republicans, and some Democrats, had warned against using the tool to pass major policy changes without bipartisan support.
Sen. Mike Enzi, R-Wyoming, a key senator on health care matters, recently compared it to a "declaration of war" against Republicans.
Both the House and Senate are expected to pass the budget measure next week. Democrats have set a goal of passing health care reform by August.
E-mail to a friend

All About Health Care Policy • U.S. House of Representatives • U.S. Senate