By Terry Frieden
CNN Justice Producer





WASHINGTON (CNN) -- Attorney General Eric Holder was decidedly noncommittal Thursday as he was buffeted on Capitol Hill by alternating demands to release -- or not -- more secret documents related to alleged torture, and to prosecute -- or not -- Bush administration officials who wrote and approved those documents.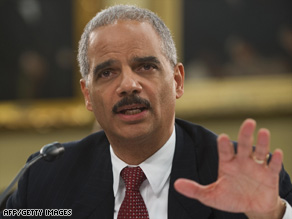 Attorney General Eric Holder testifies before a U.S. House subcommittee on Thursday.
Holder was scheduled to appear before a House committee to discuss the Justice Department budget, but lawmakers threw away the script and overwhelmed him with pointed questions about the memos and accountability for the interrogation policies.
The toughest exchanges were with the top Republican in the session, Rep. Frank Wolf of Virginia. Wolf insisted Holder provide still-secret documents which former Vice President Dick Cheney says detail valuable intelligence gained from the use of the harsh techniques against captured suspected terrorists.
"You have an obligation to release the rest of the memos," Wolf demanded.
But Holder said he had no knowledge of documents that might contain the information to which Cheney referred.
"I'm not familiar with those memos. I frankly have not seen them. I don't know that they exist," Holder said.
When Holder said he doesn't control all of the documents, Wolf complained Holder was trying to duck responsibility "just because the documents might be in a different building."
"It is certainly the intention of this administration not to play hide and seek, or not to release certain things," Holder replied. "It is not our intention to try to advance a political agenda or to try to hide things from the American people," he said.
As Republican lawmakers complained about the administration's release of four documents last week that had authorized waterboarding and other controversial methods, Democrats praised the release.
Appropriations Committee Chairman David Obey, D-Wisconsin, said torture is illegal and those responsible for its use have to be held personally accountable.
Representatives of liberal organizations including MoveOn.org, Democrats.com and the American Civil Liberties Union were in the hearing room seeking to cajole Holder and other administration officials to appoint a special prosecutor to press charges against Bush administration officials.
"The Justice Department is obligated to appoint an independent prosecutor to investigate these crimes," said Mandy Simon of the ACLU.
She said representatives of the groups had provided to Assistant Attorney General Lee Loftus a disk containing the signatures of about 260,000 individuals demanding the outside prosecutor be appointed.
Holder was not asked whether he would seek an outside counsel, but indicated he was waiting for more information from pending reports.
He said a key report on the actions of Bush Justice Department officials involved in drafting the controversial legal guidance would be completed "soon" and he hopes to make it public.

E-mail to a friend

All About Eric Holder • Dick Cheney • MoveOn.org • Republican Party • U.S. Department of Justice